A Good Holster
2019: This article was written 8 or 9 years ago. That said, while today I have a few other holsters, the ones below are still good choices. The point below, is you don't have to wait forever, on some kind of exotic holster to carry your firearm effectively.
This is my good holster collection. Not very impressive is it?
Now I didn't say this is all the holsters I have, it's just the picture of the ones that have turned out to be good for concealed carry.
Every one of these is a good holster. Not a custom one in the bunch. I didn't have to place an order and wait 3 months before getting any of them. I didn't have to sell a car to purchase any of them. In fact, I bought two of them off the shelf at a retail store, one from RSR Group on a wholesale account, and one from a dump display at a gun show.
I have no problem with anyone who wants to spend a fortune on a "custom" holster, and wait forever as long as they are making an informed decision.
But if you're fairly new to shooting or haven't figured out how you're going to carry concealed don't get stuck in indecision. Too much time online can leave you with the impression that nothing short of a holster built from exotic fish skin from deep in the Amazon will accommodate your daily carry needs.
Fact is, you can order or buy a good holster that will meet your carry needs whatever they are, from any number of sources that require no wait except possibly for shipping. Below is a description of each one of mine. They are listed in order of the frequency of use.
Fobus Ankle Holster
The Fobus ankle holster is a good holster for wearing with dress clothes. Mine holds my S&W Airweight revolver. I push my sock down, put on the holster, snap the gun into the molded polymer, and pull up the sock. The holster disappears under my pant leg.
It's so comfortable now, I have a tendency to forget I have it on. Cost for the Fobus ankle holster: about $38.
Galco Inside the Waistband Holster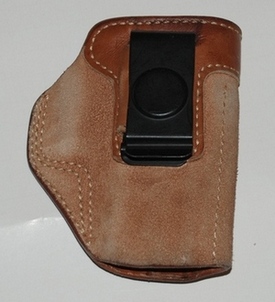 This Galco is a good holster to carry a number of different full size semi auto pistols. I bought this one at my local gun store off the shelf and don't remember what model it is.
I don't find it on Galco's sight and believe it to be discontinued. However, Galco has a "Summer Comfort" holster that should work just like this one.
On mine, I had to take off the original belt clip and replace it with an Uncle Mike's metal clip from another holster to work for me. This holster was made by Galco specifically for a Taurus 24/7, but fits a GLOCK 17, 19, 22, 23, and my Sig 220. That's just the ones I know of.
The shape and open end just make it suitable to carry a good number of handguns securely inside the waistband. Off the shelf cost: about $65.
Uncle Mike's Sidekick
This little Uncle Mike's Sidekick is a good holster for carrying a small revolver or semi auto in your pants or jacket pocket. The holster is a simple foam and soft nylon piece that smooths out the shape of the gun for pocket placement. It also holds it in the correct position in the pocket.
When the gun is pulled, the holster stays in, gun comes out. A must have for pocket carry. Retail store cost: Under $10
Don Hume H715 Inside the Waistband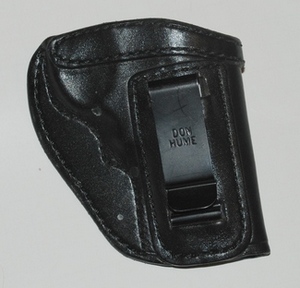 For a great value in a good holster, alway check with Don Hume first. Heavy leather, double stitching, molded for handgun models. Solid, durable holsters at great prices.
This one carries my Ruger SP101 or my little J Frame securely inside the waistband. Just a note here.
You can get an IWB holster for the SP101 that will carry a J Frame like the little Smith, but not the other way around.
If you buy one for the J Frame it will not hold the larger SP101. This Don Hume holster was purchased new from a dump display at a gun show. Price: About $30.
I have another belt holster that is the only one of it's type I use from time to time, but I have misplaced it somewhere and will update this page with it when I find it.
All these holsters together cost less than one of the many "custom" holsters made to order, that you have to wait sometimes for weeks or months on. They are comfortable, accommodating, and do a great job of concealing and making my weapon accessible when needed.
Don't waste time waiting to carry your gun. Figure out how you need to carry and order a good holster that will be ready to go to accommodate your needs.
---
Do you want to form a Shooting Group or club, that will pull together friends, family, and associates? A Group you can lead individually, or with the backing of a church or business?
With experienced shooters in the leadership positions of this type group, it can serve as a strong supplemental asset to your armed Church Security Team. 
No better opportunity than a group formed through a church to allow its members to shoot both recreationally, and for practice in their role as protectors. 
Here's How To Do It
And Present It
Finally, a personal service to help you solve your handgun challenges.
The CGO Pistol Training Website