Tuckable IWB Leather Holster By Front Line
This is one of two Front Line holsters sent to me by 7.62 Precision in Alaska. Both holsters are excellent in construction and quality.
The subject of this review is the Front Line IWB tuckable leather holster for a Ruger SR9C, and after using it for a while, I can honestly say this:
This is my new favorite leather holster. It's one that surprised me with its versatility and secure carry, even under pretty trying conditions.
Importance of Holster Security
Security here means the clear impression, when wearing the holster, that neither it or the gun are going anywhere. It is a sense of security that the gun is accessible, yet absolutely secure in its nest.
That's the way this holster rides. I've tried several others in this type holster with detachable belt loops. While they are a good idea to be able to remove a holster without unbuckling the belt, most just don't work well.
But this one, for whatever construction reasons, works perfectly in whichever position it's in on my hip.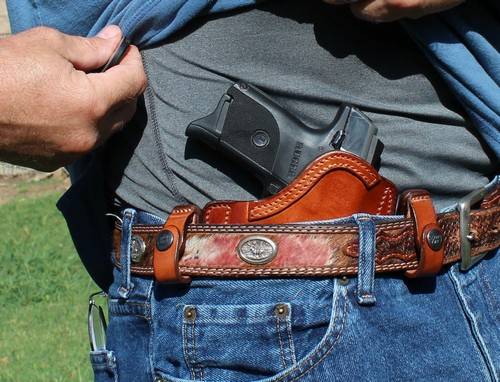 The Workout Test
I workout a lot. And I workout in the wooded hills near my home. Carrying rocks, running up hills, doing knuckle pushups in gravel, situps across big flat rocks, I decided to wear this holster.
To my amazement, in spite of the difficulty of the workout, and the factors including sweat, dirt, and the need for comfort and nothing to inhibit movement, this holster was like it wasn't even present.
But there it was with my Ruger SR9c in place, cocked and ready. Efficiently carrying a gun in hot weather while working out is challenging. This holster just solved some problems for me.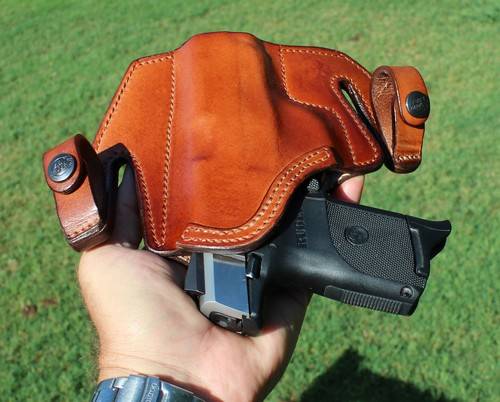 This holster is solidly made. And it is constructed in such a way as to be durable, while still providing needed flexibility in the material. For the holster to be an IWB, with useful detachable belt loops, in a pancake style that is pretty large, it had to be developed and manufactured with everything in just the right place. It was.
I've been using one IWB holster for most of my semi auto pistols for 4 years. I haven't even been interested at looking at anything else.
While the old holster has been remarkably versatile, for the most part, it just got retired. This holster fits perfectly, rides well in multiple positions, is secure, and comfortable. And it passed the "woods workout" test. Done deal.
What about this IWB holster being tuckable?
I've tried a number of smaller, "tuckable" holsters that simply consisted of a plastic belt clip bent in such a way as to provide some room behind it.
I haven't found any that actually work. They have all allowed a little bit of shirt to be tucked in while leaving you looking like you were carrying a concrete block on your side.
Actually, after deciding how much I like this Front Line tuckable holster as an IWB model, I almost didn't even try to tuck a shirt in around it. But to be fair to the folks who sent it, I gave it a try.
To my amazement, with a little maneuvering, I ended up with a shirt tucked around this holster in a way I could have worn all day.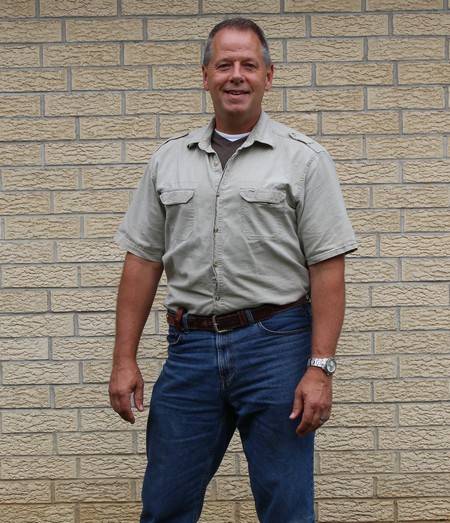 I moved, twisted, turned and walked trying to make the shirt slip out of place, but ...... it just stayed put. It's not without some adjustment to your clothes, but if you have to wear a tucked in shirt and need to carry a gun, this holster will work.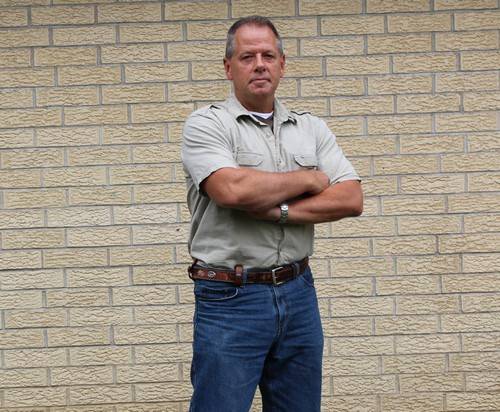 SUMMARY: The gun rides low and tight to your body in this holster. Never any feeling that the gun will "slip" or otherwise move.
The length of the holster, the two grooves cut near the belt loops and the quality and flexibility of the leather, make this a holster that does everything it's supposed to do.
And with this Front Line Tuckable Leather Holster, there doesn't seem to be any trade off in what it's supposed to do.
Consequently, while I like both the holsters I was sent, and will use them both, this is my clear favorite. This is a holster I would recommend to anybody for a compact or smaller firearm.
I'll be using it on a daily basis for a long time to come.
Check out my review of the Front Line Holster for a loaded GLOCK.

---
---
Get the Armed Volunteer Church Security Guide - Now on Amazon Kindle.