Clinger No Print Wonder Holster Review
A unique, inside the waistband, tuckable holster
At this writing, I've owned my Clinger No Print Wonder holster for about three and a half years. It's made for a Smith and Wesson Shield, in .45 ACP.
I haven't used it much in those years I've owned it. But I do carry my S&W Shield with it from time to time.
While the holster has a lot going for it as far as quality and function, there are a couple of negatives that have kept it from regular use with me.
When purchasing a holster, it's best to ignore the manufacturer's embellished claims and go by exactly what you see, and know the holster is capable of, just by looking at it. 
Where clips are placed. The type and placement of screws and retainers. Note what is necessary to change the cant (angle) of the holster on your belt or inside your waistband.
Pros of the Clinger No Print Wonder IWB Holster
First, let me give you all the positives. There are plenty to mention.
The holster is well made as far as assembled components. Screws and washers are durable and hold the holster together well. It has an overall feeling of quality.
When I ordered mine, there was almost a two week turnaround before it went to manufacture. I believe I received mine right at three weeks from the time I ordered it. The holster was made specifically for my gun.
The fit of the actual holster on the gun is excellent. The gun slides in, locks solidly in place. But as solid as it retains the gun, it also allows for a quick, smooth draw.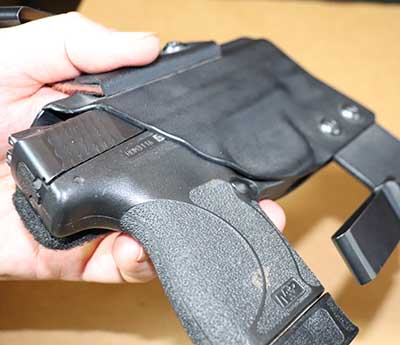 The Clinger Holster Leather Tab
The concept of the full kydex holster with one leather tab to allow the holster to "wrap" around your hip is a good one. It allows the gun grip to be pulled tight to your side when worn at about the four o'clock position.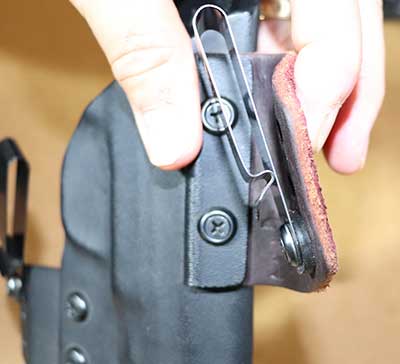 The kydex the actual holster is made from is very thin, but very sturdy. Unlike even the best of most other kydex iwb holsters, it adds almost nothing extra to the profile of the gun frame. No extra width. 
Reality of the No Print Wonder IWB Holster
In real-world language it's not a "no-print", and it's not a "wonder". Those are manufacturer promo descriptions. Pretty much all holster makers use highly embellished descriptive language to promote their products. It's a good idea not to get caught up in any of the descriptions and pictures.
However, for an IWB kydex holster, as far as quality, fit, and concealability, the Clinger No Print Wonder is about as good as it gets. 
Cons Of The Clinger No Print Wonder IWB Holster
The offset belt clip placement. This is not the only holster, from the only manufacturer, who makes one like this. But whoever makes them, and in particular, this one because it's mine, the offset of the belt clips is pretty close to a deal breaker as far as usability.
Though I adjusted the clips on both sides, they don't come anywhere near being even, across the holster. This is to produce a natural cant when the holster is secured. 
Over the last 13 years that I've been heavily involved with handgun training and use, I've never had any type holster that is more difficult, and irritating to get in place on my pants/belt for iwb carry. 
This is not the holster for you if you have to remove it multiple times per day for any reason.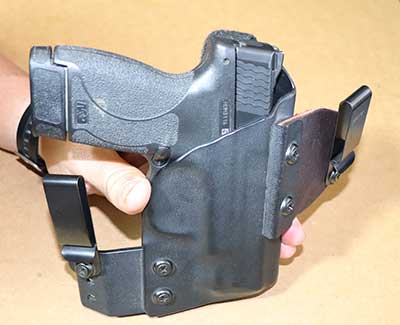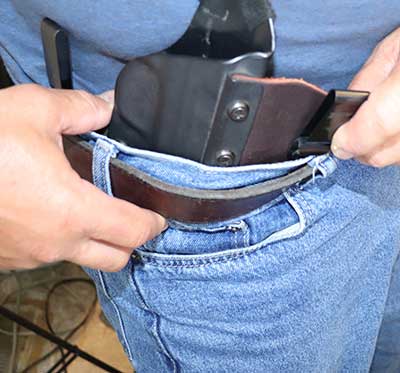 When getting this holster on, once you finally get the belt clips fully attached, if it's not in just the right position, don't waste time trying to adjust it from where it is.
Just take it off and start over. That's generally what I do at least once, often more every time I try to get it placed. When the clips finally land in the right place for the location of the holster, it's all good. The gun is tilted slightly forward, the leather tab wrapped around, the gun tight against your side.
All that said, a better design for ease of use would be tabs with belt clips at the same level, and a holster adjustable with screws for cant.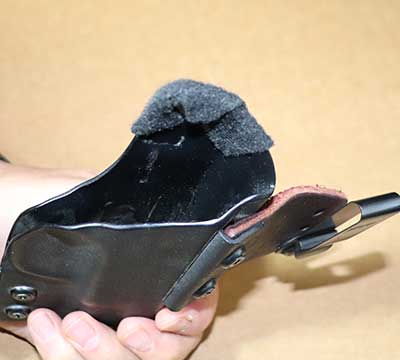 The other Con of the Clinger Holster is the sweat shield. This one feels like a steel spatula sticking in my side, no matter how I adjust the holster.

On mine, at this point, it's dealt with by some stick-on felt on the top edge to pad it against my side. If I decide to actually use this holster more, I'll saw it off, and sand down the edge of where the sweat shield was. 
It serves no purpose to securing the gun.
Bottom Line on The Clinger No Print Wonder IWB Holster: 

From 1 - 10 as far as quality, fit, and performance, I'd give the holster a 9. 
For ease of use and comfort, a 6.
I would recommend this holster to anybody who is needing a good inside the waistband holster, with secure retention and minimal printing. Someone confident that they will be able to put the holster on, and leave it on all day long.
But those of you who know me, know I have to let you know about the negative use issues  to be able to honestly make that recommendation. 
In general, Clinger Holsters is a company that produces fine products, and is owned by good, honest people you can trust to treat you right. 

You won't go wrong with any of their products. 
---
---
Get the Armed Volunteer Church Security Guide - Now on Amazon Kindle.