Belly Band Holster Review 
For Pistols Or Revolvers 
The holster being reviewed here is the Caldwell Belly Band holster for pistols or revolvers. But there are many others as capable of providing a good concealed carry option for many people. 
In this YouTube Video of me using the belly band holster in workout clothes, you can get a pretty clear picture of its value. 

Belly Band Holster Wasn't Considered A 'Real' Holster
Belly band holsters are items, that in the early years of my shooting experience, I just outright rejected for concealed carry. Without trying any.
It just didn't seem right. All the cool, leather and other material belt and iwb holsters were too numerous, and too attractive to consider any of those "soft" carriers. They just seemed like toy niche holders that repulsed me, just looking at them.
Well, I've matured a bit, have gone through countless holsters of all kinds, and come around to trying soft, on-body belts and sticky holsters. For the subject of this article, it's a belly band.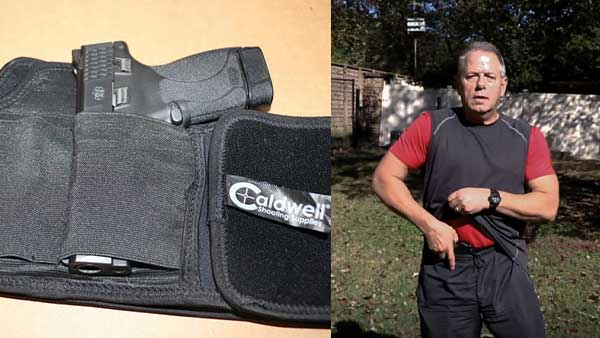 Specifically for this article, a Caldwell belly band. About $20 at Academy Sports, which is where I purchased mine. I worked there at the time, and the 20% employee discount was applied.
It's amazing what you can get for just a little money sometimes. 
Good Belly Band Holsters In Many Brands
In most cases, I'm pointing out superior characteristics in one product. In this case, the Caldwell Belly Band is what I own, but there are countless other belly band holsters on the market that are just as good, and serve the same purpose, some with more ways to carry.

Practical Use Of A Belly Band Holster For Pistols Or Revolvers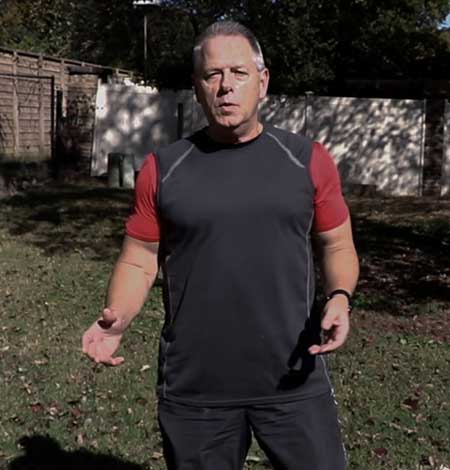 In this type handgun carry, you should be ready to use them in specific ways for carry when other types of holsters are not practical. 
Just like I'm doing with the workout clothes in this picture. Right around my waistline, under the elastic of my workout pants.
Belly bands can be worn around your mid section above your belt line. They will work fine.

They can be worn higher, under some conditions.
But ideally, they can be worn right around the waistline with the belt or ties tightened around them. This makes for secure concealed carry inside the waistband as effectively as most any you can choose. 

Belly Bands Are Truly 'Tuckable'
Not tuckable in the way many leather or kydex holsters are advertised. But really being able to put one of these on, tuck in your shirt, buckle your pants, and wear it all day, if necessary.

Without feeling like you're gonna crawl outta' your skin if you don't get it off. 
First hand experience with a belly band holster:
Not long before this article was written, I wore a Magellan shirt, with 511 tactical pants. Around my belt line, under my pants was this Caldwell Belly Band. It was packed with a GLOCK 23, right side, just to the rear of my right hip. 
I tucked in my shirt around all that and wore it.

To church. 

Yeah, shirt tucked in around a G23 in a belly band for almost 2 hours. Standing, walking, sitting. To church. 
Gun and holster unseen. So comfortable, it's like it's not there. 
So, yeah, if you regularly carry any kind of handgun, and you want to increase your ability to go armed as close to 100% of the time as possible, a belly band is an addition to your holsters that you want.
Little money with huge value.
Get a belly band holster. You won't be sorry. 
---
---
Get the Armed Volunteer Church Security Guide - Now on Amazon Kindle.