The Canik TP9SF 9mm Pistol From Century Arms
The Single Action, No-Decocker Version Of Canik's Popular Line Of Pistols
When I settled on this pistol I went in to my employer's gun bar, walked up and said, "Give me one of those" - pointing to the Canik TP9SF 9mm pistol in Desert Brown. It looked like I just walked up and picked a gun at random with no thought.
No need to look it over or ask questions about it. All I did was confirm what was in the case, and took it with me. 
The gun comes in three colors. The two most commonly available are black and desert sand (very light tan or khaki). Less common, the desert brown my employer happened to have was the color I chose.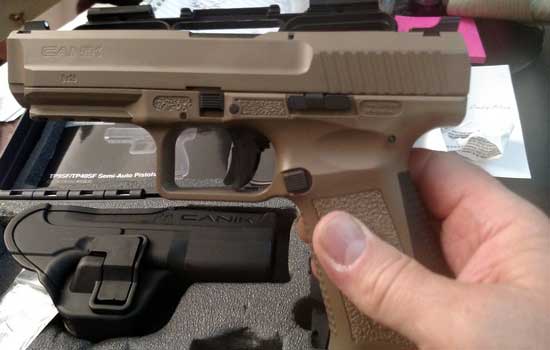 Because I had been watching reports of this line of pistols for two years. Plenty of trusted sources, demonstrations in countless videos, detailed written reports.
After two years, still glowing with reports of exceptional performance and value. 

So how has it played out in my world?

Get ready for a gun you can live a long time with. 
This 2019 update shows the performance of the Canik after several years of regular use. 
First, here's what's in the box with the Canik 9mm pistol. IMPORTANT: It should be clear, that in deciding to purchase any gun for personal use, the last consideration should be what comes with it. The first consideration should be whether you have the necessary knowledge of the firearm to be confident in its performance. 
But a quality gun with some bonus gear leaves a particularly sweet taste. 


This one comes in a nice foam lined case with two eighteen (18) round magazines, mag loader, Serpa style paddle holster, an extra back strap, a couple of cleaning rods, and a manual.

In addition to the stuff that comes with a gun, low price is not a reason to buy one either. But if the gun is high quality, and you get it for a low price, how good is that?


So while that didn't affect my decision to buy, it didn't hurt to get it all. 
One thing that lots of people have agreed they hate is the holster that comes with the Canik. While not as terrible as generally described, for a range holster, you can make quite an improvement, and get something for concealed carry. A search on Amazon will bring up quite a few holsters made for the now popular line of guns. 
Fit And Finish Of The Canik TP9SF
I didn't waste any time getting to the range for a couple of sessions to test the Century Arms import. I took pictures of the gun in bright daylight during the range tests. 
Taking the gun apart is reminiscent of a GLOCK, with the two square take-down levers, one on both sides. 
The slide is pulled back only slightly while pulling down on the two square levers. The slide then comes right off. No trigger pull required.
The internal parts look similar to the multitude of striker fired handguns on the market. Parts are solidly fit, the first sign of a well-built gun. 

The TP9SF Controls And Features
The external controls are placed routinely, and distanced for a wide range of handlers for this full size duty pistol.

There are no external safeties except the trigger safety, and no loaded chamber indicator. 

The rear of the slide has cocking serrations and the front of the trigger guard is serrated with ridges.

There is a Picattiny accessory rail on the underside of the front of the frame. 
The One Precautionary Marker In The Canik 9mm
When you're having a shooting session with this gun, one precautionary marker it provides is the visible striker. When the gun is ready to fire, the visible red bulb at the rear of the striker is visible.

It doesn't indicate a loaded chamber, but if you're out shooting, you stop, and  notice the striker in the ready position, it would be a good idea to drop the magazine and check the chamber. 
Working the action of the gun, the high quality impression continued. Working the slide, snapping the magazine in, the decisive lockout, the rock solid feel of it all comes together in a piece of machinery I knew was about to be satisfying.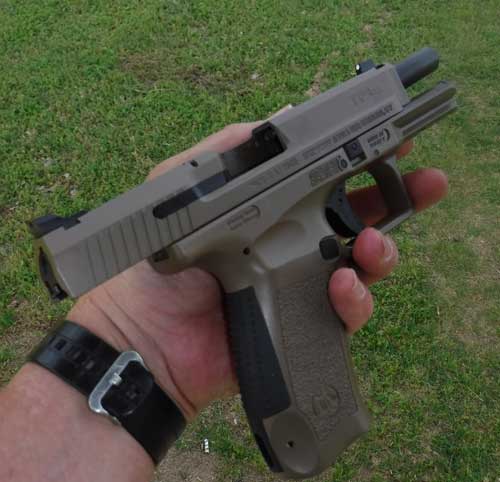 The Now Famous Canik TP9SF Trigger Pull
And THAT trigger pull. Yeah, if you've seen the reports, watched the videos, you've seen and heard it. THAT trigger. The way I've seen and heard it described, I kind of took it in stride without much of an impression.
Until I pulled the trigger on mine. 


Yeah, in a striker fired handgun, the trigger break is the closest thing to a 1911 you'll find now, and likely in the future. 


Long initial takeup with a break like a fresh cracker. 


Then there's the reset. It's so short it's almost imperceptible. The developers of this gun have produced a weapon that provides an almost ideal shooting scenario right out of the box. 
This big gun with the grids and texture in the grip, the strong grip angle, and extra crisp trigger, make the 9mm round feel like shooting a BB gun. Excellent quality, and made to order for accurate target shooting as well as fast action shooting and training. 

If you've looked around a little, reading reviews and watching videos of this gun, you've already heard how great a shooter this gun is. The reports are not exagerated.  I don't get "excited" about many guns these days, but this one caused the familiar impression that over-the-top quality was in my hand. 
From a Turkish manufactured firearm that sells in the mid three hundred dollar range in the U.S. Go figure. 

Before firing, I took the weapon apart and checked it for the usual grease and gunk found in many new guns. None present. 

The gun was clean, lightly lubricated, ready to shoot. Couple drops of oil on the rails for good measure and off I went. 
The Best Part, Shooting The Canik 9mm Pistol
We shot standing still, moving, from various distances, on plain paper, silhouette, and hanging steel gong targets. It's kind of hard to tell from the greatly reduced photo, but the steel was set in front of the paper to allow for quick shooting followed by moving in on the paper. 

As mentioned above, the gun is about as perfect a fit as I've found. 

My hands are average size, my wife's and daughter's much smaller. Both of them gripped the gun without any problem or strain.


The gun will fit a wide range of hand sizes. If an adjustment is needed, the alternate back strap may be the answer. 

For tactical shooting practice, changing directions and targets requires adjusting quickly to misses. The gun was ridiculously easy to get and keep on target, even quickly changing from one direction to the other. 
Since we now mostly just shoot in tactical training mode - fast action, moving, pointing, shooting; pinpoint target pictures are not generally available when we're done.
Except when they are. 
Returning To Shoot After Seven Years
How I Know The Canik TP9SF Is At Home With The Rogers Family: My wife, who has had serious medical problems in her right wrist for quite a few years now, had to stop shooting around 7 years ago.
Her wrist would not take the punishment of even a .22 pistol, much less a center fire handgun. The pain could put her out of commission for several days, with her needing to do her job that requires continuous use of her hands and arms. 

She recently decided she wanted to try to come back out and learn to shoot left handed. This trip out with the Canik was the first time she had shot a gun in the seven year gap. 
Vision problems don't allow her to shoot with both eyes open. So, she took the big gun in her left hand, used her right for support, closed her left eye (getting this picture?), and fired from about 10 feet at a plain piece of colored paper. 

The Canik rear black sight and front white dot sight make for an easy picture to pick up and hold on target. 
She put 10 rounds, almost all touching, in the shape of a question mark on the paper. 
Instantly seeing we might be on to something, I moved her out to about 15 feet. She put a big ragged hole in the paper. 

Finally, I put her in front of a silhouette at around 25 feet. The picture below shows her shots in the center mass/heart area.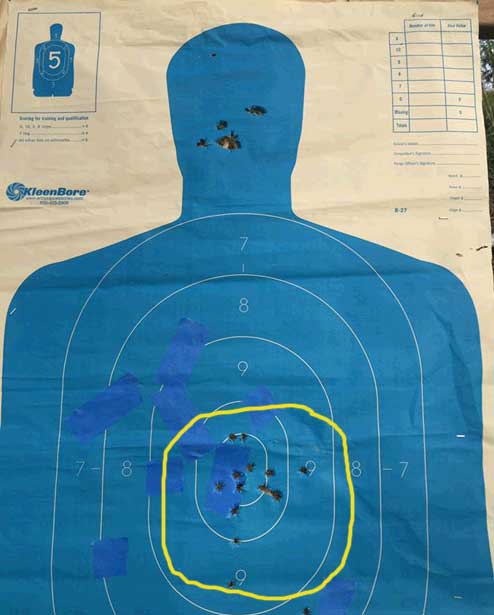 And just in case you missed this part, that was left handed with her right eye open to aim. 
After that she was ready to shoot steel. Set her up at about 25 feet from the steel silhouette and she rang the bell with all 18 rounds of a magazine. 

She's convinced she can shoot now, and can continue to work towards a concealed carry licence. She did well, and she was holding a high quality firearm to do it with.
Stats for the big 9mm Canik TP9SF:
Full-Size Polymer Frame
High Capacity Magazine
Single Action Only Trigger System with Trigger Safety
Integral Accessory Picatinny Rail (MIL-STD-1913)
Side Changeable Magazine Catch
Serrated Trigger Guard
Cerakote ® Finish
Total Length 7.55"; Height 5.70"; Width 1.30"
Barrel Length 4.46"; Weight w/empty mag 1.83lbs
Ambidextrous Magazine Catch
So here's the story for this great gun
The gun is excellent in fit and finish. It is a "natural" shooter, enabling the user to grip, acquire the target, shoot with almost no trigger effort, and stay on target with minimal recoil for the 9mm round. 
It chews up and spits out any factory ammo you will feed it, including steel case lacquered. Don't really know why people get that stuff other than it's cheap, but the gun will shoot it.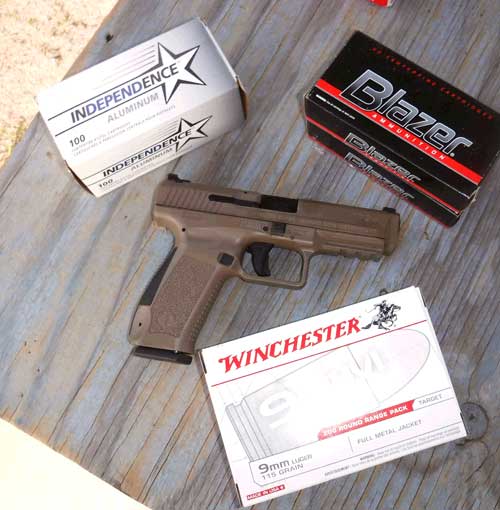 There are numerous models now in this line, but this one is the gun in question. So, I can confidently say this would make an excellent sidearm, range gun, home defense gun using high quality 9mm self defense ammo. 
For concealed carry, Canik now makes an "Elite" model. But for anybody who has a little size to their torso, and doesn't insist on wearing skinny jeans, they could work out concealed carry with this one as well. I carried a GLOCK 22 IWB, for the first two years I carried concealed.

This Canik will fit if you make the effort to work it out. 

All of the above are the reasons for buying it. With all of that said, it comes with plenty of gear and the price of this gun is right at half what numerous name-brand tactical handguns sell for. 

And this gun will rival the quality of any of them. 

The Canik TP9SF just may be the best value in a quality tactical handgun I've ever owned. 

Here's To Your Best Shooting ~ Mark Rogers
Finally, a personal service to help you solve your handgun challenges and problems.
The CGO Pistol Training Website