Canik TP9 Elite SC (Sub Compact) 9mm Pistol Review
The Canik TP9 Elite SC is anything but sub-compact, in this and my video review, more is made about that one issue than about any other characteristic of the gun.
That characteristic, along with the way the magazines align with the grip, made it an odd gun to deal with, insofar as getting on, and staying on target.
The Canik TP9 Elite Sub Compact Package
But before going further, here's what's in the box. 
The gun, two backstraps, two magazines (one 12 rd, one 15 rd), a (pretty good) holster, a (plastic) red dot optic mounting plate, trigger lock, some assorted screws with a couple of allen wrenches, and a manual. 
Mine came with a steel, u-notch, windage adjustable, rear sight, with no dots. Front sight is a fiber optic set in a dovetail. It looks like it could possibly be adjusted for windage, but I wouldn't try. No need with the rear sight accommodating that. 

The TP9SC, like other Caniks, performs extraordinarily well, mechanically. Shooting it, when I did my part, accuracy was inherent in the pistol, like in most. 
But doing my part became more and more challenging as my targets were further distanced. The fit of the gun in my hand, had me stopping to look at it from time to time.
Looking at it to see what was wrong. 
TP9 Elite SC 9mm Is Not A 'Sub Compact' Anything
When the grip hits your hand about 2/3 of the way down your palm, but the outer edge of the magazine has your little finger fully wrapped around it, the feeling is ...... weird, to say the least. 
Canik has designed, and labeled the TP9 Elite SC, to indicate it is ideal for concealed carry. First, 'SC' (sub-compact) doesn't hold up when comparing this gun with even a big sub compact, like the S&W Shield in .45 ACP
And it doesn't hold up to the 'SC' designation when comparing it to a GLOCK 19/23.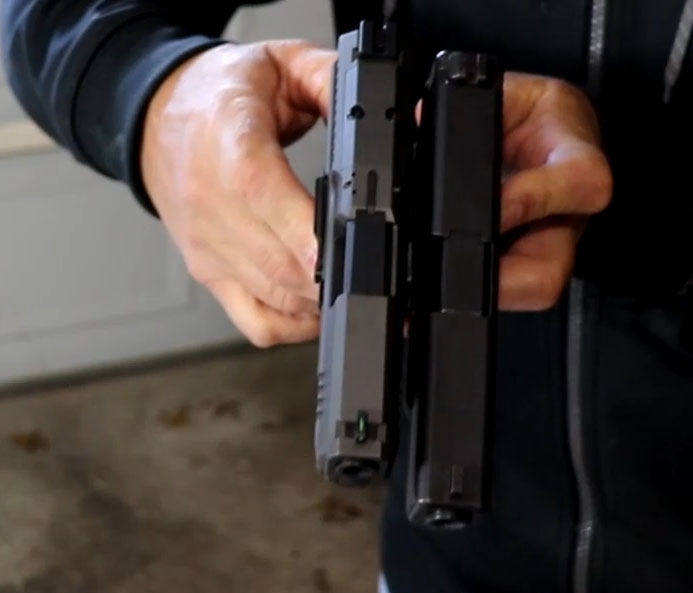 It's just too stinking big for the designation of 'SC'. 
With the larger magazine in it, the gun would be reasonably described as a 'duty pistol'. Compact, yes.
Sub-compact, no. 
In shooting the gun, first shots were satisfactory from just a couple of feet .....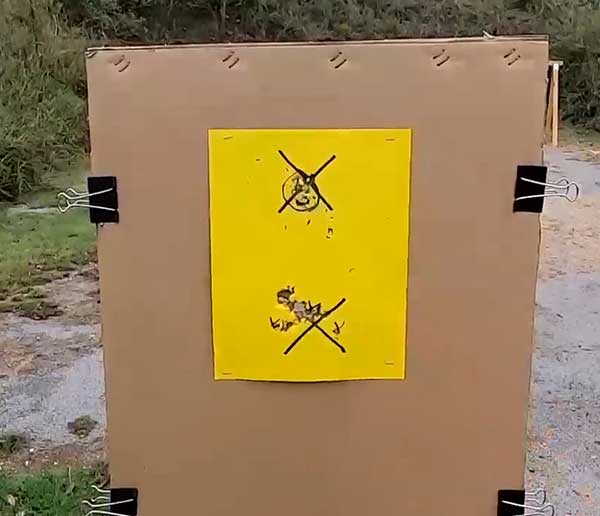 ......... out to about 20 feet. 
Then, at about 35 feet, unloading both magazines into the head of a silhouette target, showed the inherent accuracy of the gun.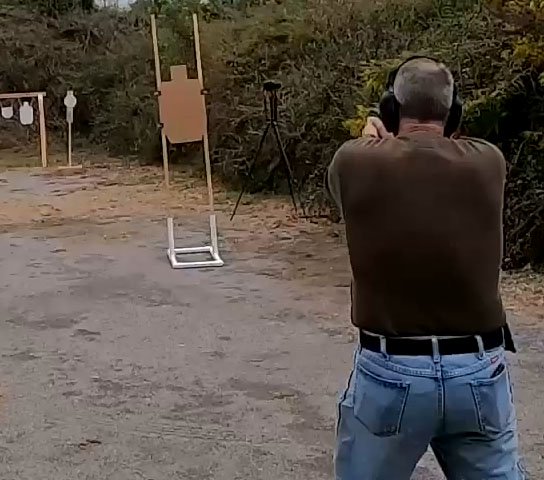 But it also began to show my challenge to not pull shots left. Below is the back of the silhouette.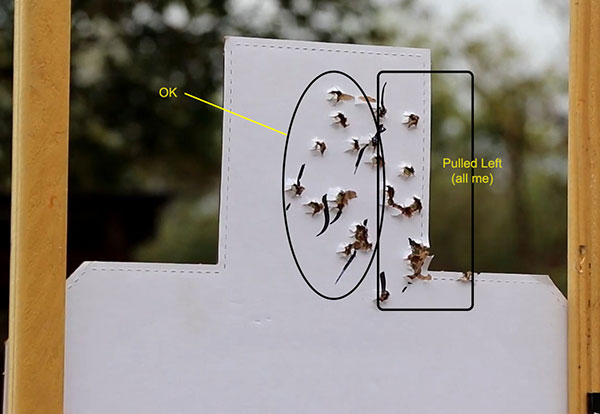 For an experienced shooter, when shots are landing left, we know how to make a quick adjustment in grip and trigger control, to correct it. No exception here.
But the odd shape and feel of the grip/magazine combo made keeping it under control quite a bit more challenging than any gun of similar size I've shot. Particularly at distances out past 15 yards. 
The Canik TP9 Elite SC is a beefy gun, with plenty of purchase on the grip with all my fingers. But not full contact all the way through the palm of my hand. 

Weird. 
When I got down to shooting steel targets at a little over 30 yards, I could hit them.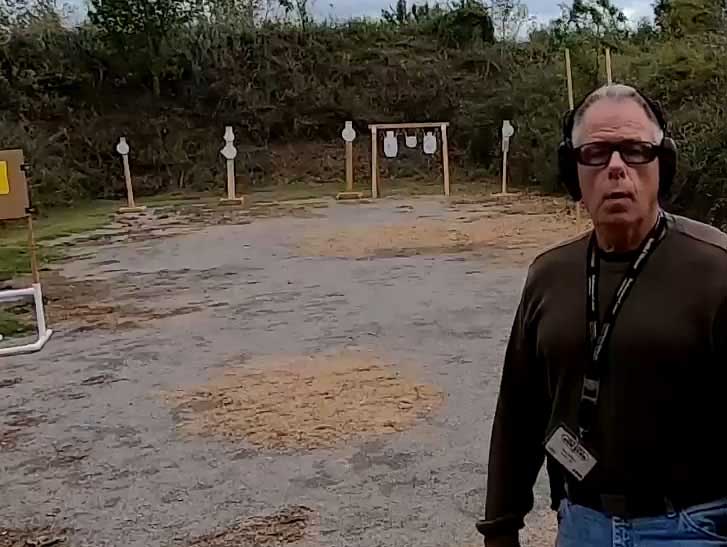 But it was a serious challenge to keep shots on the steel.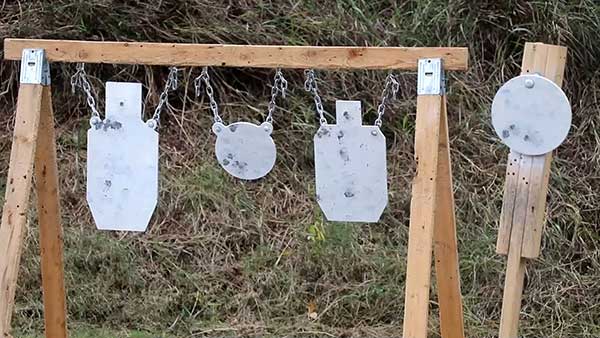 It was at those distances, where I noticed, more than others, the bucking resistance to my grip from the gun.
Several times, when I began shooting with the 15 rd mag, I stopped to see what was wrong. Because with the end of the magazine exending well past the bottom of the grip, I felt the magazine moving back and forth in my palm. 
Again, a weird experience. It didn't stop me from shooting it as I got used to it, but it never stopped feeling like something was just wrong.  

I tested the Canik TP9SC with primarily Blazer Brass 115 grain ball ammo. To give it a well rounded performance test, I also shot it with other 124 gr. nato ball rounds, some of my 124 grain reloads, and some Federal premium self defense hollow points. 
It performed flawlessly with all, through a total of about 300 rounds. 

Stats On The Canik TP9 Elite SC 9mm Pistol
Caliber: 9mm
Mag Capacity: 12/15 rounds
Barrel Length: 3.60"
Overall Length: 6.70"
Height: 4.60"
Width: 1.45"
Weight: 24.78 oz.
Operation: Single Action
Fire Control: Striker Fired
Safety: Trigger Safety Lever, Firing Pin Block
Mag Release: Reversible
Striker Status Indicator: Striker end visible when cocked
Loaded Chamber: Visible on slide
Sights: (Vary) This gun: Rear U-Notch - no dots. Front fiber optic.
MOS Ready: Slide cut, but very limited options for red dot sights.
Slide Release: Ambidextrous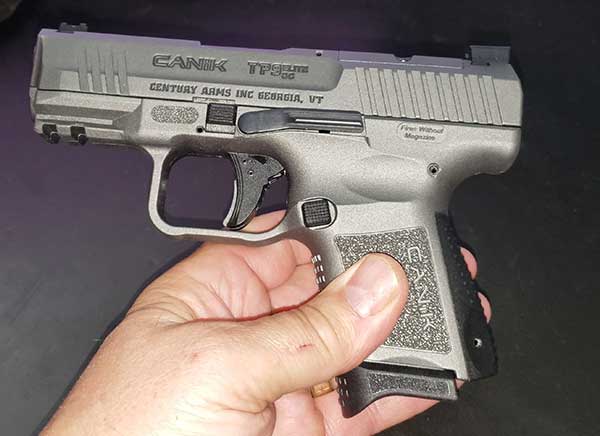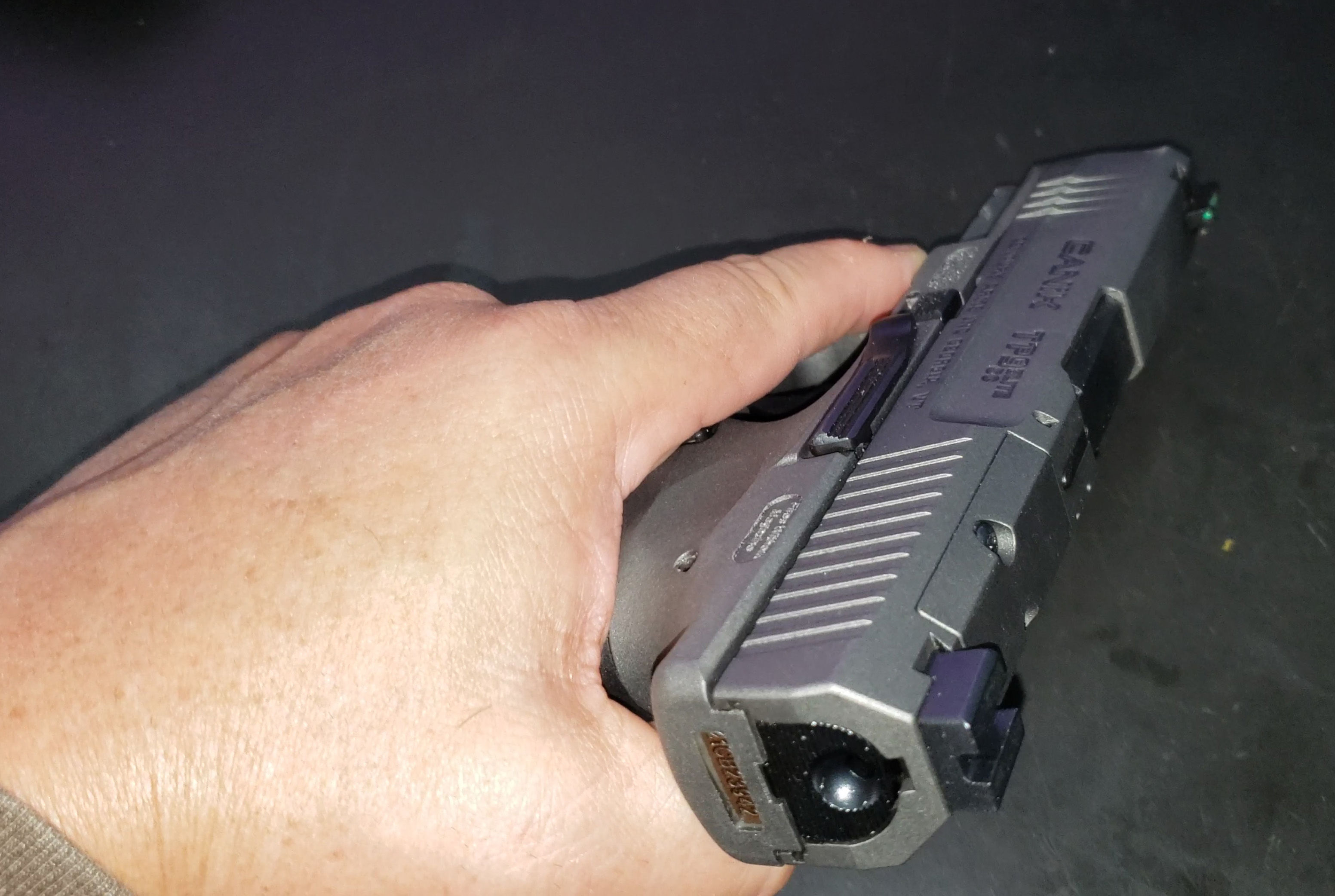 TP9SC Pistol Summary
The Canic TP9 Elite Sub Compact is, like all Canik pistols, an excellent gun, in make, function, accuracy, trigger pull, dependability. But it is a gun that, if you choose to pursue, you should know is very different in handling dynamics. All is described above. I'll be working with mine, expecting to make it a functional carry gun, eventually. 
Your experience may be different than mine. If it is, and you have any input, please contact me and give me the details. 
---
---
Get the Armed Volunteer Church Security Guide - Now on Amazon Kindle.