Walther PPQ Q5 Match 9mm Pistol Review
Top of the line 9mm pistol for experienced shooters
I was looking for another gun when I found the Walther PPQ Q5 Match 9mm pistol. I was looking for a Ruger American Competition that was not to be found.
The lack of the Ruger turned into the purchase of a treasure from Walther. 
At this writing, since 2007, I have owned, tested, and reviewed about 60 pistols and revolvers. Most of them have been purely functional guns, suitable for concealed carry, home defense, or other protection purposes. Only a few just for shooting.
In this case, I had heard about the Walther Q5, but had only owned one Walther previously, that had been a P22. While I had seriously looked at some of their offerings, I had always opted for something else from S&W, Beretta, Ruger, etc. 
But this time, I was looking for a gun in this class from Ruger, and found the Walther Q5 Match instead. I purchased it, and took it to it's new home.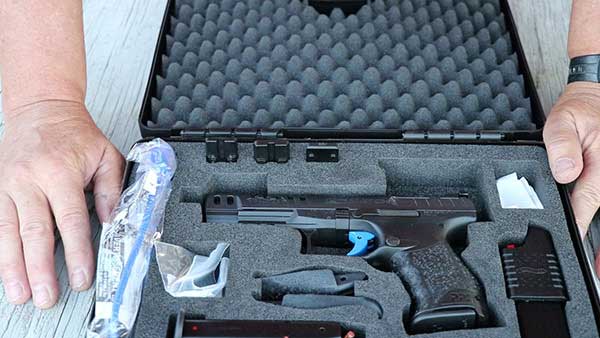 In The Box With The Walther Q5 Match
In the box the gun comes with three fifteen round magazines, a load assist, two extra back straps, three mounting plates for red dot optics, a few adjustment tools, and the obligatory gun lock. 
The Walther Q5 slide is milled and drilled to accept the MOS optics plates. The rear sight is fully adjustable for elevation and windage. The front sight is a red fiber optic rod. 
A downside to the sight system is the plate that is removed to mount the red dot plate holds the rear sight. Removing that plate to mount an optic, you lose the adjustable rear sight.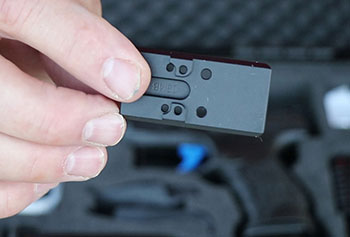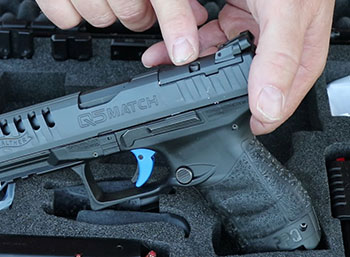 That is a characteristic of a gun made especially for competition. But it's a minor issue. 

Operational Features Of The Walther Q5
The slide of the Q5 9mm is handsome, with cutouts in the slide that are apparently just for weight reduction. The serations in the slide are serious, functional ones that can be used for solidly gripping them. For anybody who uses front serrations on a pistol, these will be pleasing.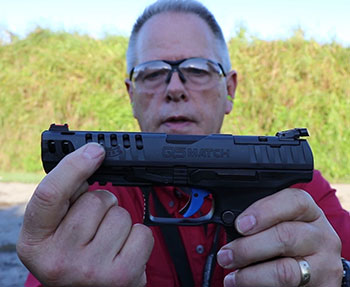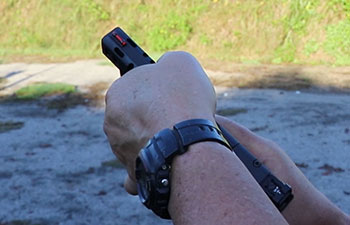 The trigger on the Q5 Match is by far the best one I've pulled right out of the box. A lot of gun manufacturers have gotten on board, with putting seriously improved triggers in their striker fired handgun lines.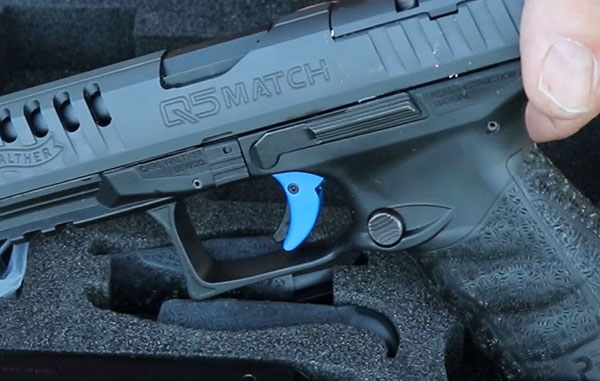 The closest I've found to this one is in a Canik TP9SF, and in the Smith and Wesson M&P M2.0, 9mm pistols.
But the one in this competition Walther is better. The best. Short, smooth, crisp, with a reset that barely requires movement. 
On The Range With The Walther Q5 Match 9mm Pistol 
You can watch this video on YouTube, if you'd rather. If you do, please remember to Subscribe and hit the notification bell, so you get one when a new video is posted. Also, smashing that 'Like' button is helpful too.
For the range review, I gathered up some various brands and types of 9mm ammo. That included Browning 124 gr. brass case ball, American Eagle 124 gr. brass case ball, Hornady Critical Defense (not made for long barrel guns, but what I had available in hollow points), Independence aluminum case 115 gr. ball, and Blazer Brass 115 gr. ball. A total of about 300 rounds all together. 

Starting close to get the feel: On the range I started, like I do with all handguns, just a couple of feet from the target for a few shots. Uneventful, and dead on. 
I backed off a few feet for small adjustments. A few more shots with the bullets going through the same ragged hole

I backed off to seven yards (21 feet), and put three shots in a sticky note.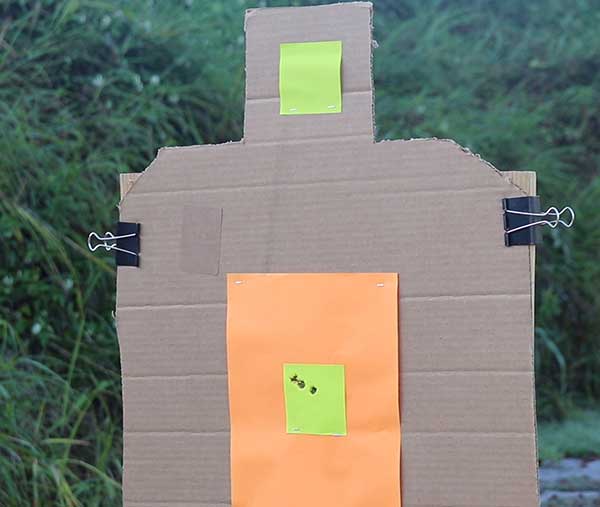 Five feet back from that, at 26 feet, I shot 4 shots at the head of a cardboard silhouette with a sticky note stuck to the head.
All four shots hit the head, three shots on the sticky note.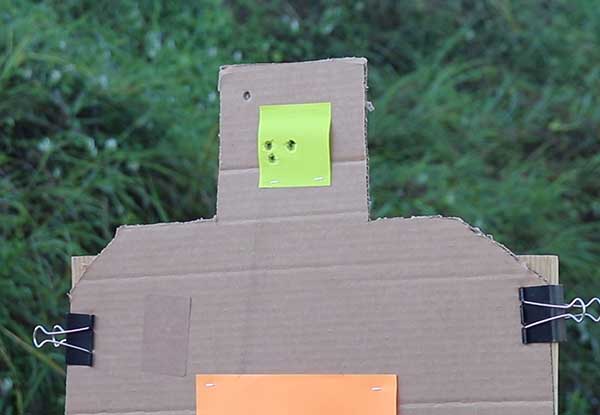 That allowed me to establish basic accuracy with the gun.
Then I got back to some serious self defense distance of about 45 feet for some shots at 5" Dirty Bird splatter targets. After a few test shots, a couple of clicks 'Up' on the rear sight, the result was what you see in the top left target below. 
Here, it's important to note that my eyesight keeps me from getting any clear picture from handgun steel sights. With reading glasses on, I can see them fine. 
But I don't practice with reading glasses on. Even so, the gun was controllable enough to put those shots in an area that would have been acceptable in any self defense scenario. 
I then moved back closer at about 20 feet to try to find the balance in the sight. When I began to shoot, I had several shots hit significantly low. Not just flyers, low point of aim.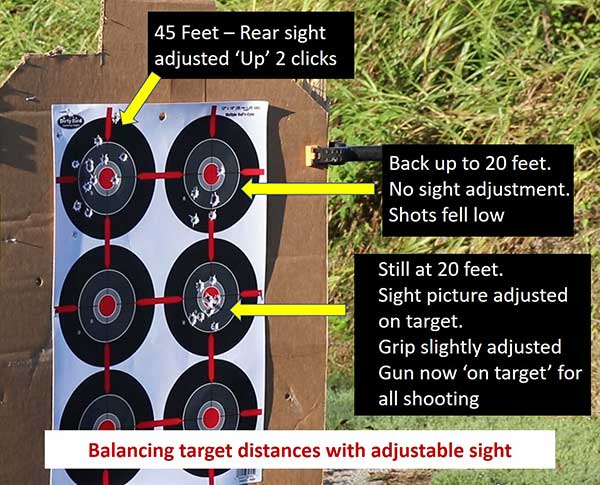 I didn't make any more sight adjustments. I just adjusted the placement of my sight picture, slightly adjusted my grip, and I was on target.
The gun shoots where it's pointed. The shooter has to make the adjustments to put it on target. 
Where the Walther Q5 Match shined the brightest
Once I had sighting established, I cut loose on some hanging and stationary steel. That's where the fast, multiple shot capability of the Walther Q5 Match pistol shone bright. 
The ease and consistency of the trigger pull, and by this time, the comfortable home in my hand, showed how capable the gun would be for self defense. 
It ran without issue, shooting fast, slow, or in between with all ammo.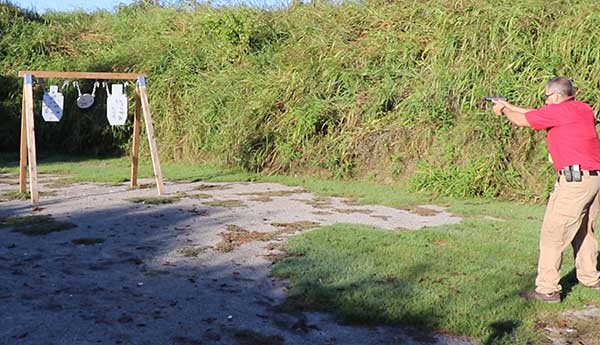 There is much more to come. But it's clear I've got a gun that's a pleasure to shoot, with potential to be any kind of handheld firearm anybody would want to make it. Competition, home defense, carry, you name it. 
For me, the Walther Q5 will be a training gun, and a limited self defense pistol. I'll be reviewing it with a red dot optic also. The gun has so much potential, it's hard to say what all I'll do with it. 
The Walther PPQ Q5 Match Specifications:

CALIBER: 9MM; BARREL LENGTH: 5"; TRIGGER PULL: 5.6 LBS; TRIGGER TRAVEL: 0.4";
MAG CAPACITY: 15 RDS; OVERALL LENGTH: 8.1"; HEIGHT: 5.3"; SAFETY: 3 AUTO;
WIDTH: 1.3"; WEIGHT EMPTY: 27.9 OZ
A single gun review like this one is always an anecdote. But I'm pretty confident, considering the general repuration of these guns, that my glowing recommendation of this one is solid. 
But there's always a caveat. (Opinion only right here) This is not a good option for a first handgun. Especially if that first gun is for concealed carry, or even open holster carry. 
It is a big pistol. A pistol with a trigger that takes very little effort to pull. Those are great characteristics for well seasoned shooters. Not so great for people not used to shooting, holstering, covering, uncovering, and control in all those movements. 
A good deal of practice with compact guns, with longer trigger pulls, going through the motions of responsibly practicing and carrying a gun for a while, would be a best lead-in before acquring the Walther Q5 Match or similar handgun.
In The Hands Of Experienced Shooters
This is a gun that will bring experienced shooters a firearm that will enable them to wring out the best of the skills they have developed in their years of shooting. 
People who know guns like they are part of their hands will take this one and experience tactical handgun nervana. 
People who have begun to compete in stock/practical pistol matches, have learned the ropes, gotten a bit of experience, will benefit big with this firearm. 

Experienced gunners looking for a step up into a handgun to become an all-around self defense pistol, will be able to take this and let their imagination take it where it will. 

They'll figure it out.

That's why it's essentially a gun made for shooters who have gained the experience to put it to work right away. 
SUMMARY: The Walther PPQ Q5 Match is a gun that I came upon by accident, looking for something else. And while that something else may be in my future, I'm glad I found this one instead. 
For it to impress a hardened handgun tester like me, it had to be built in every respect to bring out the best in the shooter that holds it.

While you can't 'buy skill', this is a gun that will surely give you the opportunity to bring out and show all the skill you have. 

Finally to top it all off, in a world of guns that all look alike, it is noticably handsome to boot. 
---
---
Get the Armed Volunteer Church Security Guide - Now on Amazon Kindle.