The Taurus 627 .357 Magnum Revolver Review

2021: The Taurus 627 .357 magnum revolver is still being manufactured. Little has changed in its appearance. It remains an excellent firearm, and an excellent value in a .357 magnum revolver.
----------------------------------------------------------
Looking for a .357 magnum revolver, I first looked to Smith and Wesson for a 686 seven shot stainless model.
Taurus 627 .357 Magnum Compared To S&W 686
At Sportsmans Warehouse in Rogers, Arkansas (before they went bankrupt) I checked out the Smith 686. I was disappointed with the finish on the gun as the entire gun had visible swirls in the stainless steel finish. And coming in at around $700, I looked at the gun racks for an alternative.
Looking the revolvers over, I spotted a cool looking revolver with a matte stainless finish and a 6.5 inch vented, ported barrel with full underlug. It was the Taurus Tracker 627 revolver in .357 magnum. The fit and finish of the Taurus was flawless, and sported all the features of the Smith without the price tag.
Knowing what I now know about Taurus firearms in general, I paid for the gun and headed home.
A Few Taurus Tracker 627 Features
The gun features a seven round cylinder, for plenty of firepower .

The comfortable, easy handling, "Ribber" grips fit my average size hands well.

It has an adjustable rear sight, and a red ramp front sight.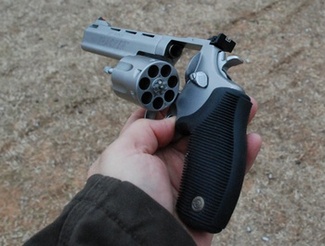 The grips that fit my hands may be a bit small for someone with large hands. In that case a larger Hoque grip might be a better choice.
But for people with small to average hands, the gun will fit fine and the grips are comfortable shooting any caliber the gun will handle.
I get a full hand grip on the gun as it comes out of the box.
A two handed grip results in a tack driving hole puncher. 
When I first took the Taurus 627 revolver out for testing, the weather was miserable, windy and cold. My ear muffs were as much to keep my ears warm as to protect my hearing. But, as most shooting enthusiasts know, once you start shooting, the weather and your comfort become less relevant and that was the case here.
As far as feel, the gun is designed to reduce recoil and consequently, is a bit "front heavy". The purposely heavy barrel is a result of a top vent and full underlug. This serves to give the impression that the front of the gun is being pulled down, especially when holding the gun with one hand.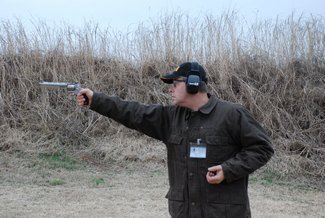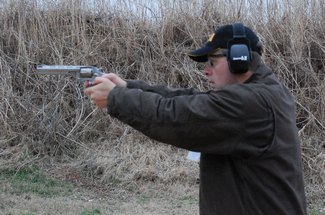 A two handed grip on the Taurus 627 minimizes the hefty front end feel. The ported barrel is intended for further recoil reduction. So how does it work as far as reducing recoil?
Shooting The Taurus Tracker 627 .357 Magnum Seven Shot Revolver
All rounds fired the first day were .38 special, .38 special +p, and .357 magnum reloads. I started out with the .38 specials and it was like shooting a bb gun. The gun just went "pop" and a hole appeared in the target.
Recoil was nearly non existent and right down weird. So, I moved up to the .38 special +p and the results were nearly the same. A little more felt recoil, but still next to nothing. It was apparent that the design of the gun made it well suited for what was to come: the magnum loads.
Shooting .357 magnum rounds with it was pure joy. Shooting the lighter loads from the Taurus 627 felt so odd that it was actually nice to feel a little recoil. It finally felt "natural" but for .357, still minimal. Of course, this is exactly why a revolver like this is designed this way, for minimal recoil and control which was obviously what Taurus had accomplished in the 627 revolver.
After firing some initial rounds from moderate distances, a couple of turns on the adjusting screws of the rear sight and I had the revolver dialed in for me. Then I got down to some serious off hand target shooting. The gun was so much fun to shoot and so effortlessly nailed the targets with minimal effort, I ran out of ammo before I ran out of desire to shoot. A total of a couple hundred rounds later, I had the satisfactory results I hoped for from the revolver.
The target below shows the results of firing with .357 magnum rounds from about 50 feet off hand. Firing was done about as quickly as I could thumb cock it and pull the trigger.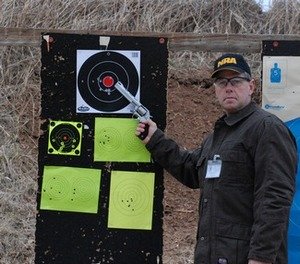 All styles, shapes, and sizes of splatter targets are available for dependable ordering and delivery on Amazon. It's where I get about 80% of my flat targets. 
For the best possible feedback in your training with targets, go with steel from XSteel Targets.
Use promo code: MARKCGO for a 10% discount on your order.
The silhouette target shows the results with the Taurus 627 from 25 yards, slow fire, single action. The results would be acceptable to any hostage rescue team.
I did all my testing off hand from various distances out to 25 yards, mostly in single action mode. I did do a few tests with double action shooting which was acceptable and pretty much average for a DA revolver.

Taurus 627 Revolver Specs
The revolver specifications are as follows: Model: 627SS6; Caliber: .357; MAG Capacity: 7; Barrel Length: 6-1/2"; Porting: Yes; Action: DA/SA; Finish: Matte Stainless Steel; Grips: Ribber; Weight: 40 oz; Construction: Steel Frame:; Compact Front Sight: Fixed Rear Sight; Adjustable Trigger; Type: Smooth Length: 10-3/4"; Width: 1.531"; Height: 5.40"; Rate of Twist: 1:16"; Grooves: 5 Safety: Transfer Bar MSRP: $570.00 (not the real world price).
Since that initial test, I've had the Taurus 627 .357 magnum revolver out numerous times with our shooting group. Men, women and teenagers have shot the gun. All were able to bring it on line, shoot accurately with it and easily handle the recoil of anything the gun will shoot. Below is a picture of me being happy with my revolver.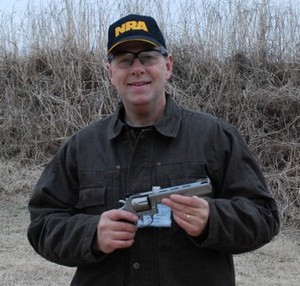 BOTTOM LINE: Taurus continues to prove, with the 627 revolver, that they can stand along side of Smith and Wesson, Ruger and others in quality, dependability, and accuracy. And they've also proven they can do it for less.
My Taurus 627 cost $469.95 as opposed to the ill-finished Smith 686 price of over $700. If you want to spend 250 bucks more for a gun that is no better, go ahead. When lined up side by side, I'll go ahead with my Taurus and buy a couple hundred dollars more ammo.
--------------------------------------
Update 08/03/2011: Having owned and shot the gun for around three years now, the Taurus 627 continues to do what it is supposed to do: shoot dependably and accurately. The gun's accuracy with shooter assistance supplied by the rear adjustable sight continues to please shooters young and old. And the gun is a comforting home defense tool when it's not being used for plinking at the range. No doubt about it having been a good purchase choice.
---------------------------------
Update 6/2012: The Taurus .357 magnum continues to shoot and shine. It remains a defender of our home and a great range gun (not to mention - still my daughter's favorite).
------------------------------------
My Original Taurus Tracker 627 .357 Magnum
As Of 2018: The Taurus Tracker 627 hasn't changed much in appearance. Just a few upgrades in technology. Still the same highly accurate powerhouse that made the original a serious competitor for the S&W 686.
2018 Taurus Tracker 627 .357 Magnum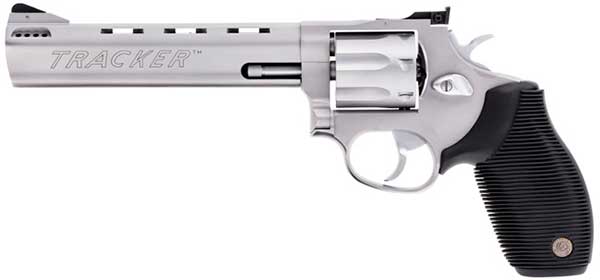 ---
---
Get the Armed Volunteer Church Security Guide - Now on Amazon Kindle.