Taurus 24/7 Pro 9mm Pistol Review

2019: While Taurus still manufactures numerous striker fired handguns, the 24/7 is no longer in production. 
When I first saw a promotion video of a Taurus 24/7 PRO pistol, touting it as the NRA's 2005 Golden Bullseye Handgun of the year, I knew I had to check one out. I headed down to one of our local gun dealers and lo and behold, there sat a 24/7 Pro stainless steel 9mm just waiting for me to handle.
Well, you can probably guess if you've read other stuff on this web site, if I handle it, I usually buy it. This was no exception, and what a good choice it was.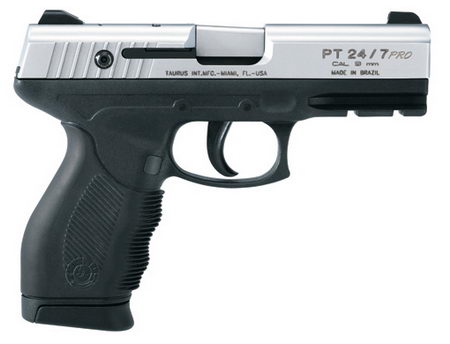 I can see why the gun was the NRA handgun of the year. It is excellent in fit and finish, durable and super comfortable to hold and shoot for almost any size adult hand. The gun grip has Taurus's unique "Ribber" grip which is soft rubber ridges built around the pistol's grip. It is an amazingly comfortable and secure grip.
The gun is unique in other ways also, particularly in it's ability as a striker fired, semi-auto. The shooter is able to fire subsequent times if the gun does not go off without working the slide.
It has a second chance trigger system that sets to a light double action pull when the slide is worked and a bullet is chambered. Then as it is fired the gun continues to reset the trigger to a light single action pull.
But in the unlikely event that the gun does not fire when the trigger is pulled, the trigger resets to a double action pull and can be pulled again without the slide being pulled back. Great for self defense just in case.
HOWEVER COMPETITIVE SHOOTERS NOTE: This gun is not allowed in the stock or production divisions of IDPA or IPSC because the initial trigger pull is not double action or heavy enough to qualify the gun. The initial trigger pull is considered single action. However, for self defense or police work this is an excellent feature.
One feature that will make many concealed carry folks more comfortable is the presence of an external safety on the gun that allows another measure of safety against human error. PLEASE NOTE: The gun, just like a GLOCK, is completely safe and will not fire without the safety on unless the trigger is pulled. However, for many people (particularly people who don't handle and fire their weapons often) that extra measure of security against a negligent discharge is very comforting.
I concur and understand (even though I carry a GLOCK) the desire for added safety. The external safety on the Taurus 24/7 PRO completely locks both trigger and slide. The safety is a flip up for on and flip down for off – easily managed like a 1911's safety. The button under the red dot below is the flip up manual safety.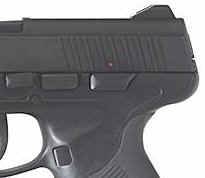 Shooting the gun is sweet.
I'm reviewing the 9mm here, and the recoil is naturally very manageable in this full size gun. The gun is very accurate and has Heine Straight 8 sights with the rear sight adjustable for windage.
Like other Taurus guns with these sights, you are pretty much limited to the dovetail fitted Heine sights as replacements until other sight makers begin to see the light and start making some for Taurus.
I actually drilled some dimples in my sights and filled them with fluorescent green paint which created two sights in one with two ways of aiming.
As to your ability to conceal the gun: I carried mine for about two months under light spring and summer clothing in a Galco inside the waistband holster. The shape of the gun and it's "Ribber" grips made the gun very comfortable to wear around all day even though it is a full size duty pistol.
Over 1000 rounds went through this gun without a hiccup. I shot Monarch, Blazer Brass (i.e. cheap), and Winchester ball and hollow points. No failures of any kind. The gun works.
BOTTOM LINE: A durable, dependable and great shooting 9mm that you can carry as a duty pistol or concealed under light clothing with the right holster. When trying to decide on a pistol but afraid of the lack of extra security on a GLOCK, the Taurus 24/7 9mm pistol may be the answer for you. All that with the "second chance" trigger system makes this a hard gun to pass up at a retail price of around $400 new.
NOTE: I base all handgun reviews on practical use, shooting off-handed from reasonable distances – no further than 25 yards and usually in the 10 – 15 yard range.
---
---
Get the Armed Volunteer Church Security Guide - Now on Amazon Kindle.