Taurus TX22 - .22LR Striker Fired Pistol Review
This is being written in early 2021, during the worst ammo shortage most of us have ever lived through. The Taurus TX22 was a solution to ongoing training, and range fun, without breaking the bank. And without wasting precious center fire ammo. 
In the box, the Taurus TX22 comes with the usual supply of box debris. And typical of many Taurus handguns, it comes in a cardboard box.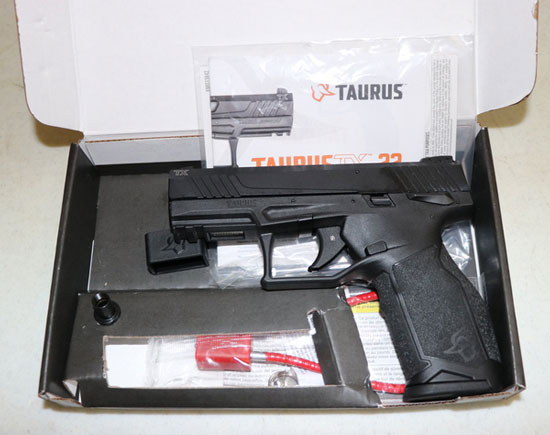 For a good, thorough, initial range session with the Taurus TX22, check out the video below. 
This link will take you to it, If you would rather watch it on YouTube. 
If you do, please respond, and subscribe to my channel.
Included with the gun is an immediately recognizable, big advantage. Two 16 round magazines. While the magazines have sliding buttons on the side, typical of .22 pistols, these buttons do little. They are cut flush with the mag frame, so give little assistance. That is not even close to a deal breaker though. Having 16 round magazines is big deal, right from the start.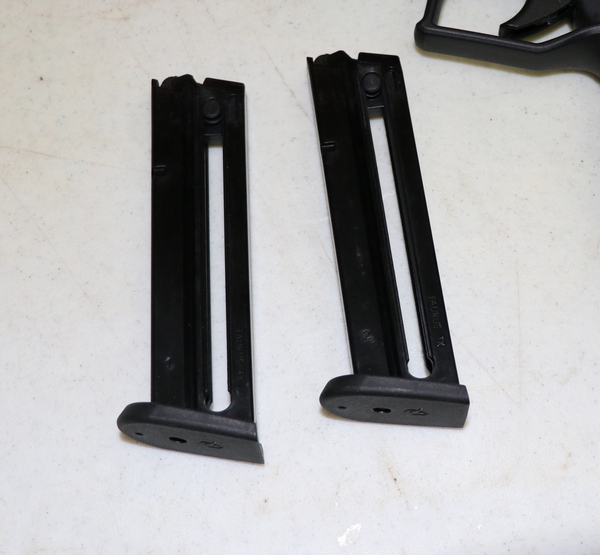 Handling The TX22 Pistol
For anybody who follows any reviews I do, they know I'm an advocate for a good, full grip on any gun, used for any reason. The Taurus TX22 does not disappoint in this arena. Taking it out of the box, I was first impressed by the nice full grip, with no finger hanging over the bottom edge. 
It is, indeed, a full size handgun. I even had the mental question arise, "Can .22LR rounds really cycle this thing?" More on that below. But the grip is perfect for anybody with most any size hands. 
After this review, I used the gun to help a lady who was wanting to start working with pistols, but was pretty wary. I handed this to her, went through a few drills, and watched, as in no time she was blasting away with it. On target. She was small, with small hands, but with a little adjustment was handling the big grip with comfort and confidence.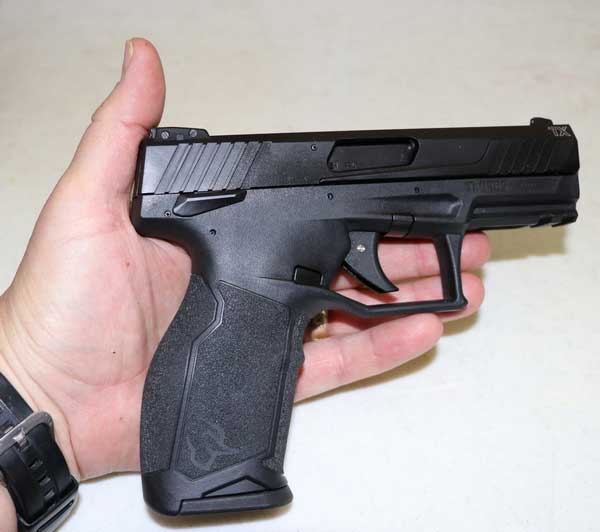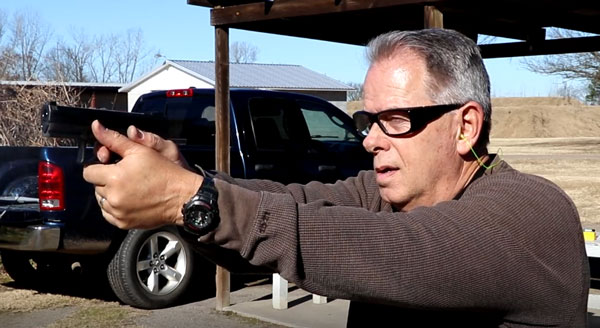 Features And Stats On The Taurus TX22
Controls on the TX22 .22LR pistol are typical of most any striker fired pistol. The picture below shows the location of your controls. The takedown lever is GLOCK style, with which you can pull the slide slightly back, pull down on the lever on both sides, and let the slide go forward, off the frame. 
Taurus TX22 Stats: Caliber: 22LR; Action: Single action; Firing System: Striker; Frame Size: Full; Barrel Length: 4.10 in.; Weight: 17.30 oz.; Slide Finish: Anodized Black; Barrel Finish: Matte Black; Slide: Aluminum; Frame: Polymer; Barrel: Steel Alloy; Safeties: Manual (flip up), Striker, and Trigger.
As you can see from the picture below, the internals of the gun are typical of any striker fired pistol. 
I don't know what all holsters are available for the TX22, but I have a couple of GLOCK 19/23 holsters (one IWB, and one Serpa range holster) that fit it well. You can probably find dedicated holsters for it. I just haven't looked as of this the time of this article.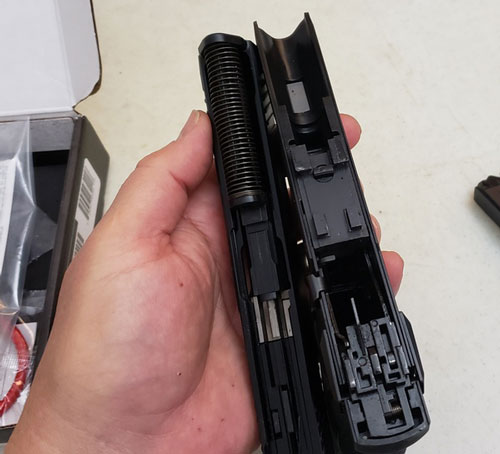 The Taurus TX22 also comes with a threaded barrel, and insert, if you should happen to have, or are considering getting a suppressor. 
Sights on the TX22 are 3 white dot. Front sight post is fixed. The rear sight is adjustable for both windage and elevation. Taurus is also now producing these pistols that are competition ready, and prepped for mounting a red dot sight.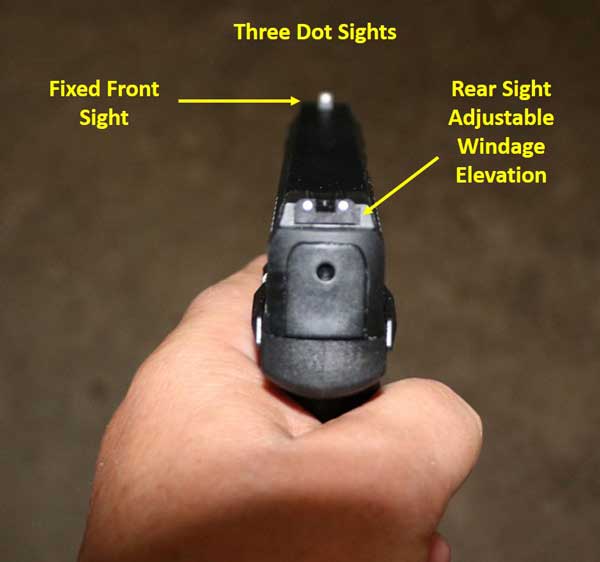 On The Range With The Taurus TX22 - .22LR Pistol
It had been a long time since I had purchased a .22 pistol for my personal use, recreation, training. This reminded me that I need to keep in mind how valuable, and just plain fun .22s are. 
The gun was tested with 5 different brands, and types of .22LR ammo. Some of it new. Some so old and mishandled, it actually had corrosion that flaked off of the lead bullets, when I took them out of the box. 
With the modern Browning, and Remington ammo, it shot like a champ with no malfunctions. Few problems emerged with any except one kind, when a few malfunctions occurred. 
Overall, I shot between 175 - 200 rounds, with so few malfunctions, with such questionable ammo, that I'd put this gun up against any, of any price as far as dependability.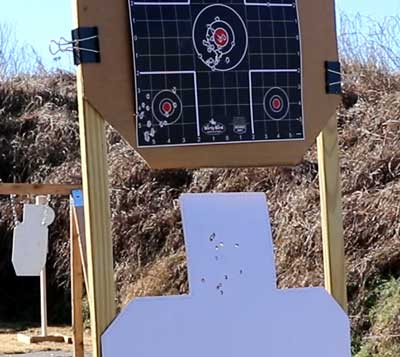 Getting and staying on target with the full size grip, long sight radius and generally easy shooting was a piece of cake. I got it sighted in, with just one slight adjustment to elevation on the rear sight. 
I didn't spend much time here getting on target. Shot from close up, out to about 25 feet, what you see in the picture was acceptable for my next project. The TX22 on steel. 
Shooting The Taurus TX22 At Steel
Over the years I've been shootng steel targets, I haven't given much consideration to .22s for that satisfying experience. On this day with this Taurus .22LR pistol, I found out I had been missing out, big time. 
The satisfying 'rrrriiiiiinnnggg' of steel gongs from fast shooting, moving across the range,  the .22 was as rewarding as lining up my center fire pistols on the targets. And I knew putting all this ammo to use was not breaking the bank, and not using up my center fire ammo. 
Win-win on everything done with this gun, on this range, on this day. 
Using this comfortable, controllable, fast shooting .22 was a solid experience, with a gun that rewarded me with perfomance I could happily write about. The fun factor almost kept me out longer than I should have been there, but like all good things, it had to come to an end. 
Conclusion on the Taurus TX22: While all gun reviews are anecdotes, and before purchasing any on the basis of reviews, multiple trusted sources should be checked. That's what I did before I purchased this one. 
I can say with all the other postive reviews online, I can add my own to the enhancement of the reputation of this gun. From my experience: Recommended. 
---
---
Get the Armed Volunteer Church Security Guide - Now on Amazon Kindle.