Taurus 738 .380 ACP Review
Update: Well I got the Taurus PT738 back at Academy Sports less than three weeks after sending it in. It came back with the extractor replaced.
So, I have to give the customer service a thumbs up. But what is evident is that nobody test fired it with a couple magazines of ammo before returning it because it came back in the same condition.
For whatever reason it didn't extract, the extractor wasn't the reason. It's just the same as it left. Failing to extract/eject and jamming every second or third round.
Other Taurus reviews here have been positive. The only recommendation I can give for the PT 738 .380 is to not buy it. Unfortunately, the original review below stands.
---
The reason I bought this Taurus PT738 SS is because so many people have contacted me through the web site and asked my opinion on them. Not just this one but the Ruger LCP and Kel Tec 3-AT.
My take on them has been that they are inherently problematic because of the size that makes them so attractive for concealed carry. When Kel Tec put its 3-AT on the market it was an immediate hit. Not because it was so good.
The failure rate of the guns has run about 50% of them that come from the factory with some kind of problem. After the Kel Tec offering, the inevitable rush to market by other gun makers trying to catch up was inevitable. The Taurus 738 .380 was one of those catch up products.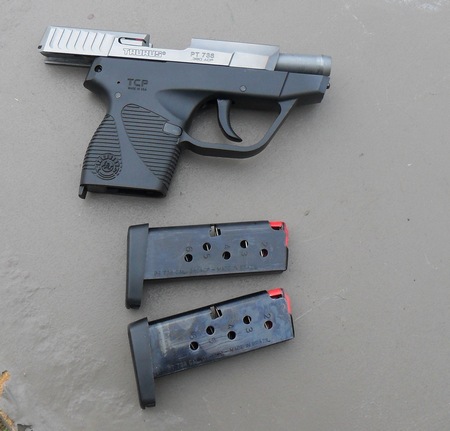 I bought the gun from my local Academy Sports for about about $70 less than the Ruger LCP. While there is a difference in the shape of the rear of the slide, they are essentially identical in size.
The gun fits across my hand without any of it over the edge, and it will indeed fit in a front jeans pocket. Though a holster in the waistband would be preferable.
The sights of the gun are molded into the slide and are only incidental in aiming as accuracy is simply based on looking down the barrel and pulling the trigger.
Using this kind of gun, you're not trying for bullseye accuracy. When practicing with one of these the goal should be to be able to hit an 8x11 sheet of paper at 21 feet dependably.
This size handgun is suitable for close, last resort self defense. From the short size, to the light, slow moving bullet, they are inherently handicapped and fall only in the "better than nothing" category.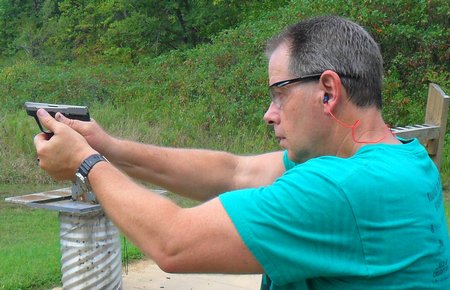 The Taurus PT738 SS comes with a nylon clip on case and two magazines which I initially thought was kind of nice, since its main competitors only ship with one magazine. The gun felt solid and good in my hand for a gun this size.
I worked the action, dropped the magazine, dry fired it all to make sure it functioned correctly, then laid down my cash and walked out with it.
I purchased a 100 round box of Remington UMC 95 grain ball ammo for the first range session with the Taurus 738. The first time out with it was during a Right On Target Group meeting so I had several people available to try the gun out.
I started out by loading up both magazines and shooting at some paper targets about 25 feet away. The first few shots didn't even hit the paper the target I shot at was on. The diminutive, snappy little gun tries its best to escape the two fingers that hold the grip.
After a slight grip adjustment, I started punching holes in the paper I was aiming at and even landing most shots within the target. Accuracy and the bit of difficulty gripping and sighting was about what was expected, but quickly manageable.
Ok so far.
For the first 5 magazines the Taurus 738SS performed just fine. Then the trouble started.
A failure to extract resulting in a jam.
Ok, the gun was just getting loosened up. But jam number 2 followed quickly and from that point on they continued throughout the shooting session.
At about round #60, I took the gun apart and cleaned and oiled it to see if it would make a difference. No change.
Through round 100, the Taurus 738SS continued to fail to extract resulting in multiple jams with every magazine.
The second range session was two weeks later. I used some Winchester USA 95 grain flat points and the Remington UMC ball ammo again.
I checked every inch of the gun, inserted and checked the magazines, cleaned the gun and oiled it. I hoped I would be able to run a few mags through it without jamming.
But no luck.
There were multiple failures with both kinds of ammo through both magazines for about 60 rounds.
No further tests needed. I had a defective gun that would not extract/eject.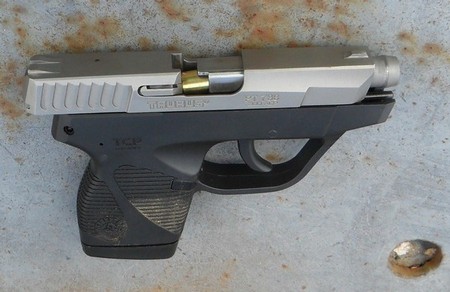 So, I took the gun home, cleaned it, boxed it up, wrote a couple of pages of information for Taurus along with pictures and took it back to Academy Sports to ship back to the manufacturer. That's where it's gone now and we'll see what happens when it or a new gun comes back. I've got plenty of ammo left to give it a good second chance.
As far as actually shooting the gun, it's well .... a gun. All guns are fun.
But this one, as with other guns this small are not much fun to shoot for long. After shooting about 6 mags through it, you are pretty much forced to change your grip a bit for comfort.
The best thing about this gun or any this size is the fact that it is so concealable. But the problem with all of them is, they are built for a cartridge that was designed for a significantly larger, heavier handgun. And when you downsize past a certain point, you get the problems inherent with these guns.
Specs on the Taurus PT738 SS are as follows: Model: 738SS, Finish: Stainless Steel, Caliber: .380 ACP, Grips: Checkered Polymer, Capacity: 6+1, Weight: 10.2 oz, Barrel Length: 2.84", Construction: Steel, Frame: Compact, Action: DAO, Front Sight: Fixed Length: 5-1/4", Trigger Type: Smooth MSRP: $352.00 (Real world price about $280.
When I get the gun back from Taurus, I'll take it out, test it, and update this report. For the time being the 738 is just a pocket sized disappointment.
---
---
---
Get the Armed Volunteer Church Security Guide - Now on Amazon Kindle.