Ruger LCR .38 Special +p Revolver Review
During a regular meeting of the Right On Target Group, I was able to do a cursory review of the Ruger LCR revolver. The one we reviewed is the .38 special +p double action model with fully shrouded hammer.
Cursory, because the gun was brand new, and my shooting time with it was limited. The owner, Paul, gave it a good wringing out though, and I was able to observe, take a few pictures and do a bit of shooting with it myself. This is the basic information on the gun and my initial impression of it.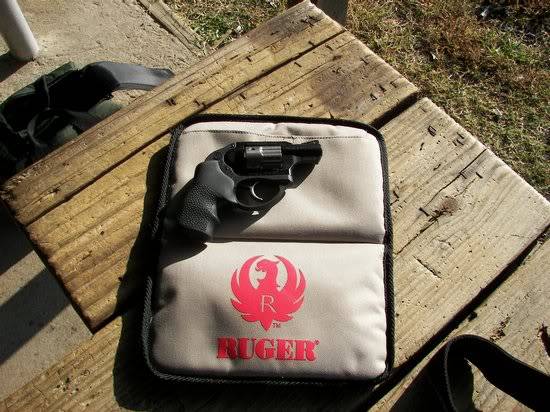 The Ruger LCR Revolver Is Light
It was lighter by a couple of ounces than my S&W Airweight revolver of the same caliber and capacity. But those couple of ounces are noticeable when you lift the gun to shoot it.

It also is noticeable in the recoil which is slightly more snappy, but completely manageable. Like all new, very light and small guns, it took everybody that shot it a few rounds to find the target with it.
It has a fully shrouded hammer making double action the only option, so be ready to practice with it if you buy it.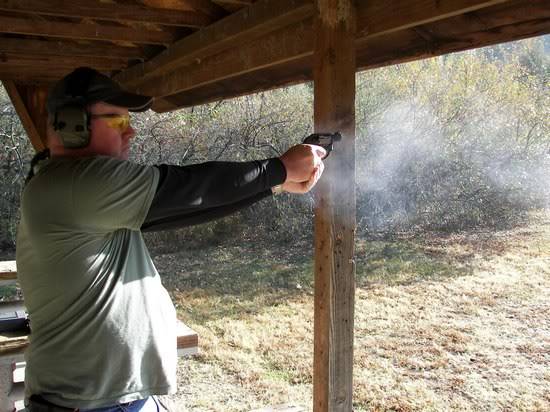 Shooting The Ruger LCR .38 Special Revolver
Once we found the groove with the gun, putting the five rounds it held inside a 10" target at 21 feet was not too difficult. If that doesn't seem too impressive, you have to remember the purpose of the Ruger LCR revolver.
It is a backup gun, or a civilian concealed carry piece that is carried for the most severe and up close encounters imaginable. It is not intended to be a long range gun.
It is intended to save your life as a last resort like any small revolver.
We shot the gun with .38 special +p ammo that it is manufactured for. Ruger reports test weapons with several thousand rounds through them that have shown virtually no significant wear or need for any replacement parts.
That's a good early sign (being that the design is only a few years old), but not unexpected from Ruger that is known for manufacturing the hardiest of revolvers. They are made to shoot the hottest rounds manufactured for any revolver they make. They are made to shoot thousands of rounds with no significant wear.
Ruger has now come out with a .357 model that may find its way into my gun case in the future.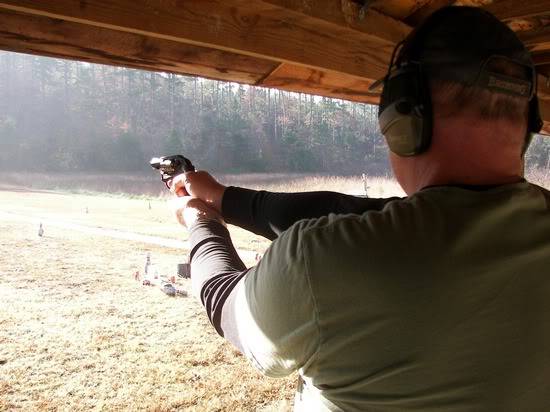 The owner of our test gun is a big, strong guy that didn't have any trouble controlling it. Once he found the target he was able to get accustomed to it pretty quickly.
He left happy with the gun which is what we all want to do with our guns once we've laid down our hard earned money. He now has a good ankle or pocket carry gun that will make a great backup or primary carry piece in the thin clothes of summer time.
And you can say what you want, but revolvers offer the most trouble free, dependable firearms available under any circumstances. I carry my S&W Airweight with confidence that it will always perform and will never go off if I slip. It is durable enough to endure trips to the lake in my tackle box, in my kayak and out in the woods. The Ruger LCR revolver will be no less enduring.
The Ruger LCR sights are the typical molded into the frame rear sight with black front sight. They are not easy to align, but probably the best bet for a point-and-shoot gun.
Ruger managed to get in on the ground floor with this gun and put out a product that has been labeled as "revolutionary", though it may not be quite that dramatic. There is actually a Russian company that came out with a prototype revolver with a polymer frame but has not been put in production. Ruger had the muscle to put it into production and get it out to the public en masse.
The specifications of the gun are as follows: Capacity: 5, Barrel Length: 1.875", Length: 6.50", Height: 4.50", Twist: 1:16" RHCylinder Finish: Advanced Target Grey®, Rear Sight: U-Notch Integral, Unloaded weight: 13.5 oz.
Bottom Line: Early indications of the Ruger LCR double action revolver are that it is a typically durable revolver of the Ruger line. It is one of the lightest in its class with the same characteristics of other J Frame revolvers. It is light, small, durable, concealable, and dependable. It is a gun that will serve you well within the niche it is intended for.
---
---
Get the Armed Volunteer Church Security Guide - Now on Amazon Kindle.