Ruger AR-556 Autoloading Rifle Review And Description
Ruger's popular, basic Model 8500 AR Rifle offering
I bought this Ruger AR 5.56 rifle, the model 8500, in 2016, just prior to the presidential election. When it looked like Hillary Clinton might take the White House, people started coming in to the large sporting goods retailer I worked for, and buying ARs 4 and 5 at a time at shelf prices.
This was in anticipation of doubling their money on the rifles, when Clinton won, and the panic buying would ensue.
So, I grabbed this one, just to be sure I could get one before it all started.
Well, a Clinton victory was not to be. 
But I've never regretted the purchase of the Ruger AR 5.56.
The Ruger AR-556 Rifle - Basic, But Well Built
Of course Ruger is known for making guns built like tanks. This basic AR rifle is a solid gun, built to withstand plenty of shooting. And it's built with tolerances that allows for dependability with a wide range of ammo brands, and case types. 
Ruger AR-556 Barrel And Gas Block
I'll start with the end of the barrel and work back. On the end of the 16" barrel is a flash suppressor (that liberals believe is silencer). The barrel coating is not one that is made for heavy abuse, but for routine shooting, hunting, competition, it should suffice. 
Ruger maximized the gas block starting with the post sight. Then down to the block that is serrated to avoid any glare using the iron sights.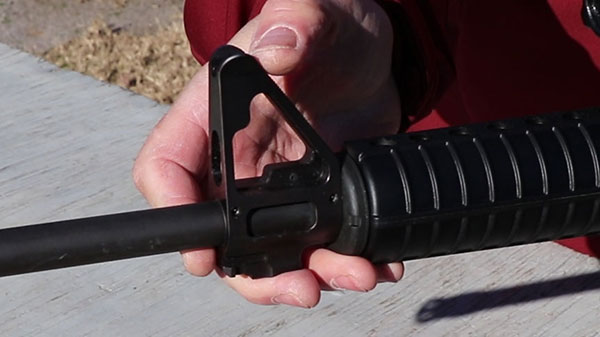 Underneath, on the sight/gas block, is a bayonet lug. I've seen a couple of videos from people noting that their bayonets would not fit on the lug, with only one stating they were able to get his on by "jamming it down" on it. You'd just have to see about that.
But if you're not real concerned about mounting a bayonet on this gun, read on.
Also, on the underside of the gas block is a screw hole for mounting a front sling loop. 
Other Ruger AR-556 Rifle Features
Handguard And Delta Ring
One unique feature of this gun is the Delta Ring that screws on at the bottom of the handguard (rather than having to be wrestled off). The ring simple screws off, the handguards come apart in two pieces. Reassembly is the reverse. A much easier installation than the standard push-pull ring.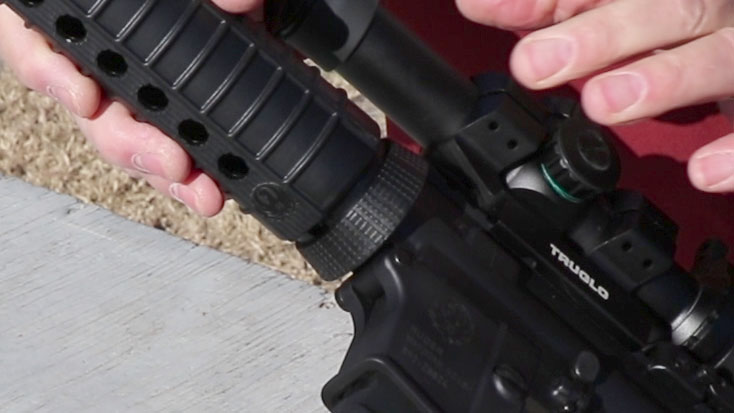 Mil-Spec and Otherwise Standard Construction

I'm not taking the time or space in this description to describe every part and point out the minutiae about every one. You can find all that in a thousand other places online.
Just suffice it to say, the rifle is built to take all kinds of replacement parts, just like all standard built AR rifles.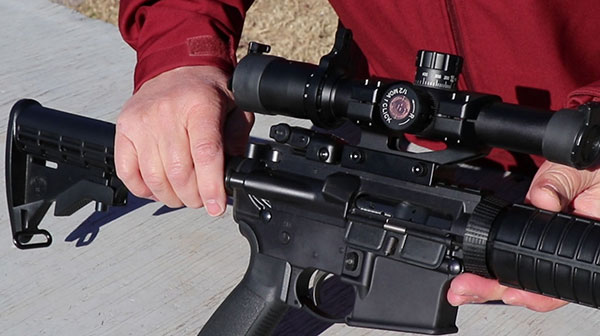 Complete with rear windage adjustable iron sight, forward assist plunger, dust cover, and 6 position telescoping stock, that all rounds it out. 

Internals are mil spec and standard. Most all can be replaced with aftermarket parts. 
The Purpose Of The Ruger AR-556
This gun is for anybody, who like me, wants a basic AR, without breaking the bank. That's not about being the gun being cheap. It's just basic.
They sell in retailers in the $600-$650 range, with some good deals on sales and other specials. 
It's just a gun that you don't have to buy things you don't care about. And if you decide later you want to customize it, go for it. You can turn it into a space gun if you want to spend the time and money to make it happen.
But for me, basic was all I needed then or now. 
Suggestion for optics:
For anybody learning to shoot any rifle that has iron sights, learn those first. Get to where you can shoot confidently at your chosen distance before adding optics.
As far as optics go, there is no shortage of choices. Red dot, co-witness systems, fast acquisition scopes, magnifying scopes, no end to the list.
For me, wanting to see where the bullet lands in a paper target, a magnifying scope was the right choice for me.
On mine is a TruGlo 6 power scope with illuminated, multicolor reticle.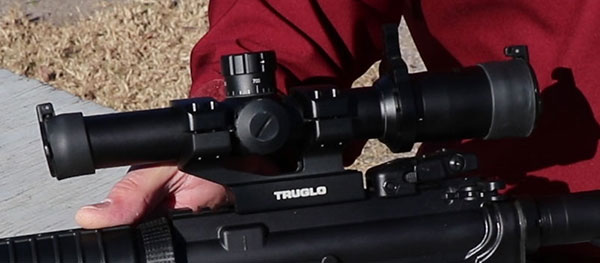 The scope came complete, on a riser mount, ready to screw down on the picatinny rail. 
This or other scopes can be mounted and used with the tall front gas block/sight in place. No need to remove it. The scope is powerful enough for me to see shots placed at 100 yards, but short and clear enough to acquire short distance targets quickly. 
Lots of choices like this on the market. 
How Does The Ruger Model 8500 AR-556 Rifle Shoot?
While I'm not a rifle enthusiast or hunter, you can see from the fun shooting demonstration in the video, that the gun is easy to handle; and without any adjustment to the rifle or scope coming to the range, it was on target.
Any missing was me just shooting quickly and not settling in, or taking the time to take careful aim and breathe correctly. 
The SUBSCRIBE Reminder in the video is for YouTube viewing - Link below the video if you want to watch it there.
Watch The Ruger AR-556 Video On YouTube
Like most AR rifles the Ruger is a pleasure to shoot, with little recoil, and a solid feel. I have mine zeroed at only about 40 yards, for the way I use and shoot it.
If you are a hunter, and you need a basic AR to take in the field with you, this one will take care of business. 
Just mount and zero the optic you need for the type hunting you'll be doing. Do your part on the trigger, and the gun will take the game. 
In Summary: The basic Ruger Model 8500, AR-556 is a top notch, basic rifle for recreation, hunting, and farm or ranch defense. You can't do much better in this category of AR rifles. 
---
---
Get the Armed Volunteer Church Security Guide - Now on Amazon Kindle.