Kimber SIS Ultra Carry 1911 .45 ACP Review
2020: This article was written sometime in 2011. In 2010 the Kimber Ultra Carry SIS model was discontinued amid controversy over the intent and design of the original model.
However, the Kimber Master Carry Ultra appears to have taken a spot where the SIS fit before. Same basic size and configuration. 
A gun that I don't own, but would like to, is the subject of this article: the Kimber SIS Ultra Carry 1911. This little 1911 with a three inch barrel is a gun I've been able to observe in numerous people's hands over about a year and a half. The gun is owned by my good friend, Marty, who uses it as his primary carry pistol.
Over that year and a half, I've had numerous chances to shoot the little Ultra Carry, and every time I consider going out and buying one.
But, can't own em all. The next best thing is having friends with cool guns. But I digress.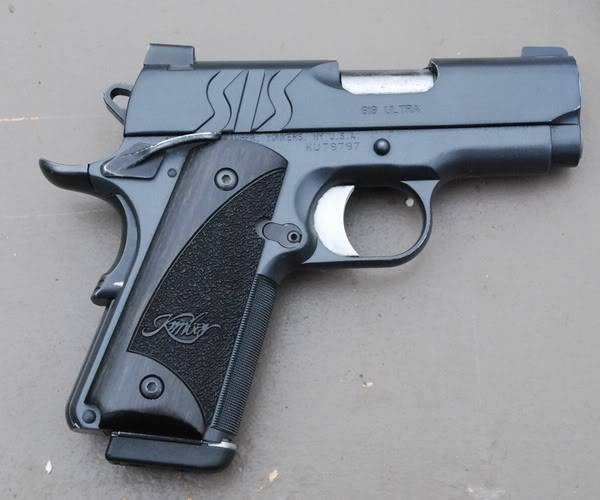 Unfortunately, I was too busy shooting during this range session to get the usual number of pictures. I only came away with a couple of the Kimber SIS Ultra Carry 1911.
The first time the gun was ever brought to the range during one of our Right On Target group shoots, the response to the 3" barreled 1911 was extremely enthusiastic. When one of the guys picked up the diminutive .45 ACP and blew up a jug of ice at 75 yards, then bounced some bowling pins around out past 50 yards, it was pretty clear that we had a unique firearm among us.
In that initial range session, the gun startled everybody who shot it, not from excessive recoil or being hard to control or hit the target.
Just the opposite.
Shooting The Kimber Ultra Carry SIS
The surprise was in the fact that even our inexperienced shooters picked it up and began drilling tight patterns in targets. They blasted small cans and bottles out to about 25 yards on the ground.
You wouldn't be surprised at this with a quality full size 1911. In a .45 with a 3" barrel, most people are just expecting to hang on and hope to hit somewhere in the general vicinity of the target.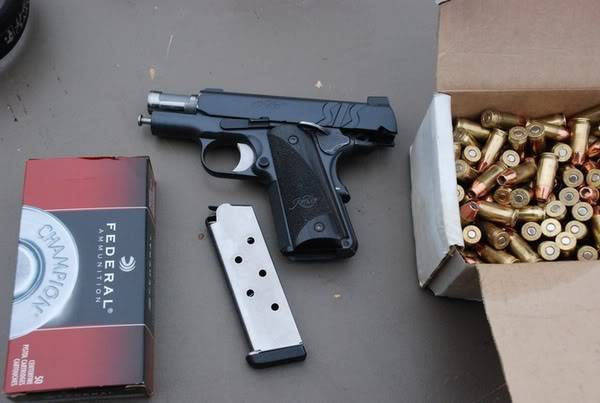 In the most recent range session, I made sure the gun got wrung out by numerous people with several different kinds of ammo. That including the reloaded 200 grain hollow points, and the Federal 230 grain round nose shown. We also shot it with other ammo including Glazer Safety Slugs that people delighted in obliterating big jugs full of colored water with.
Again, my apologies for losing the video of some of the pretty spectacular stuff we did with this little gun. On this particular trip I was just plain photography challenged. My own target shooting with it consistently ended up with paper targets with ragged seven hole clusters. That was in the same area target after target out to about 40 feet.
This little Kimber SIS Ultra Carry 1911 has also proven it's durability having been shot consistently for over a year and a half. And as far as dependability, no ammo has caused it to fail to do anything it's supposed to do.
Design Evolution Of The Kimber SIS Ultra Carry
The original Kimber SIS was born as a design with intensive input by LAPD's Special Investigative Section officers. This unit is renowned for taking on the most violent of criminals in the most dangerous situations imaginable, many times with S.W.A.T. backup, sometimes without. 
This alone birthed the gun in controversy. First, the ire of gun owners, gun rights organizations and activists heavily criticized Kimber for designing a gun for an agency in a gun prohibitive state. California was in the midst of passing some of the most prohibitive gun regulations ever for civilians including micro-stamping requirements for guns starting in 2010.
Nonetheless the gun was developed and the SIS was armed with the gun that bore its initials. Then more controversy ensued when Kimber announced it would market the Kimber SIS 1911 to civilians.
"Civil rights" activists in California were "appalled". As usual they were incensed by the notion of a gun developed for a police agency could end up in the hands of a criminal who may shoot a police officer with it. Of course that line of reasoning could only originate in California, the beginning of all gun twink nonsense.
But in spite of all that, Kimber did market the gun to civilians in several configurations including the Kimber SIS Ultra Carry that is the subject of this article. Typically the SIS was a gun that enthusiasts either loved or hated. I've seen it described as cool, slick, well designed, stupid and butt-ugly (on some gun forums you can find all of these descriptions on one thread).
The end result of all of this was the discontinuation of the gun in 2010. Kimber filled all existing orders but ceased production for further marketing.
Aside from all of that, I just know the one I'm familiar with would have to be put in the category of great sub compact pistol. And just because the SIS model is no longer available doesn't mean you can't get a Kimber Ultra Carry in one of numerous other models. Same gun, different package.
The Kimber SIS Ultra Carry 1911 sports a 3" barrel, aluminum frame, steel slide, matte black finish, self cocking serrations, combat night sights, and an aluminum match grade trigger with the pull set at a factory 4-5 lbs. The gun weighs 25 ounces with an empty magazine.
BOTTOM LINE: Over the last fewyears, Kimber has suffered significant criticism over quality control issues, manufacturing shortcuts, etc. The SIS brought endless controversy which the company eventually caved in to. I can't really answer all the issues with Kimber or where they are now in dealing with the recent public perception of the company.
But what I do know is that this Kimber Ultra Carry is an excellent, durable, accurate, and dependable handgun that a good friend of mine depends on daily to protect himself and his family.
---
---
Get the Armed Volunteer Church Security Guide - Now on Amazon Kindle.