GLOCK 21 Gen 3 Pistol Review

2019 Update: This review of The GLOCK 21 Gen 3 was the very first (and one of the worst) gun reviews I did on this web site over five years before this update. It is short and to the point.
I leave it here like this for nostalgia. If you landed here, don't expect the other reviews to be this short or lacking in information. I promise ..... I got better with time.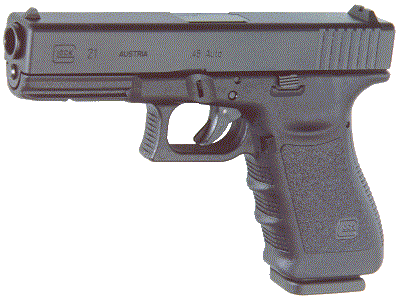 The GLOCK 21 is a big gun, no doubt about it. However, for all the internet whining you will hear about the "fit" and "grip angle", the gun is properly shaped to fit and shoot in average size (or larger)men's hands.
Women or men with small hands will find the gun uncomfortable to grip firmly and hold properly. The G21, like all GLOCKS will work. Period.
It is a good size for a duty pistol, or competitive practical pistol shooter, but is realistically too large for concealed carry.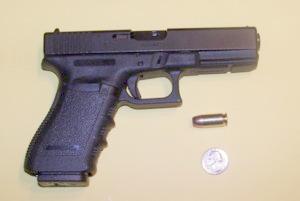 My G21 was a shooter right out of the box, easy to get on target with muzzle flip minimal for a .45. I typically could easily hit a tactical size target on the move from anywhere from 7 - 40 feet, shooting from many different positions.
Like all GLOCKs, it is utterly reliable and eats any type factory ammo put through it. And that's where these guns really shine. Take them out of the box and start shooting. ALL GLOCKs should be carried concealed IN A HOLSTER ONLY! A holster that covers the trigger guard is essential for carrying these guns. Sticking a GLOCK down your pants without a holster is a sure way to blow off anything in them.
NOTICE: My finger on the trigger in many pictures on this site is not an oversight or disregard for safety. It is to illustrate how a handgun grip fits in my hand when ready to shoot.
---
Do you want to form a Shooting Group or club, that will pull together friends, family, and associates? A Group you can lead individually, or with the backing of a church or business?
With experienced shooters in the leadership positions of this type group, it can serve as a strong supplemental asset to your armed Church Security Team. 
No better opportunity than a group formed through a church to allow its members to shoot both recreationally, and for practice in their role as protectors. 
Here's How To Do It
And Present It
Finally, a personal service to help you solve your handgun challenges.
The CGO Pistol Training Website