GLOCK 34 Gen 3 Pistol
Review And Range Report

2019: This article was written about 10 years ago. Today the GLOCK 34 is still in production, now in several variants, including optics ready models. Still popular for competition.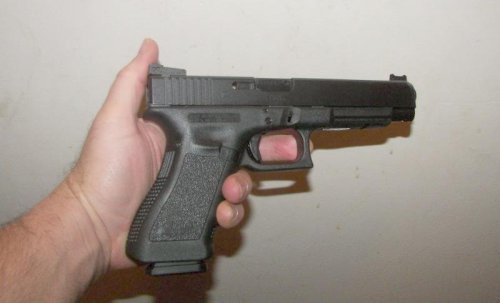 The GLOCK 34 - 9mm competition model put me over the edge when I saw it. I thought, "I've got to have that gun so I can review it". I'm a sick man. I look at Sigs, S&W's, Rugers, Taurus, Kimber, and I like them all. But when I see a GLOCK I don't have, or a good deal on one that I don't need, I've got to have it. I know some of you are already thinking about how that's some kind of sin, but that's where my bondage is.
First Impression Of The GLOCK 34 Gen 3 Pistol
I have read about, heard about, looked for a GLOCK 34 or 35, but never found one anywhere in the area including at gun shows. I went to the Tulsa Gun Show that touts itself as the biggest in the world and didn't find one.
So I walk into the local Cooper's Gun Shop and there, like it had materialized just for me, the GLOCK 34 lay. Now this thing was not cheap for a used gun, and I walked out to think about it. Except it always gets worse when I think about it.
When I go try to resist a GLOCK, I fail miserably and all the thinking about it just convinces me I gotta have it. So, I went back and got it. And predictably, I liked it as much as I expected I would.
First, It's a big gun. No doubt about it. And like the G17, it holds 18 rounds of 9mm ammo. But like the G17 the GLOCK 34 is a nice fit for most average size hands.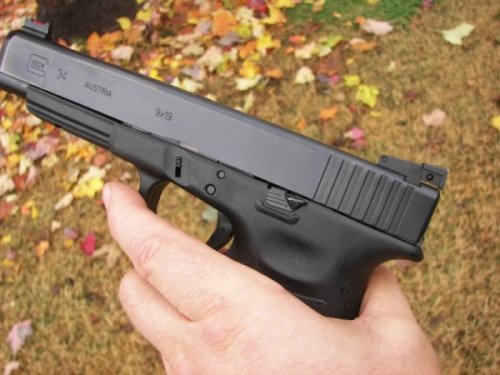 A Gen 3 GLOCK 34 Ready For Competition
Now, I'm usually reviewing guns bought off the shelf with just a few things I might have done to make them a little better, but this one had belonged to a competitive shooter who meant business. His improvements to the gun were a set of Dawson fiber optic sights with the rear sight being adjustable for both windage and elevation.
He had added a stainless steel guide rod and heavier spring, lightened the trigger pull. He had changed out some of the internal stock parts with stainless steel to smooth up the action, and had added an extended magazine release.
It was no doubt done by a competent gunsmith, because the fit and finish of the gun and all parts is excellent. The GLOCK 34 had been kept impeccably clean and when I bought it and took it home, it was spotless inside and out. To add to that, the gun looked nearly brand new all over.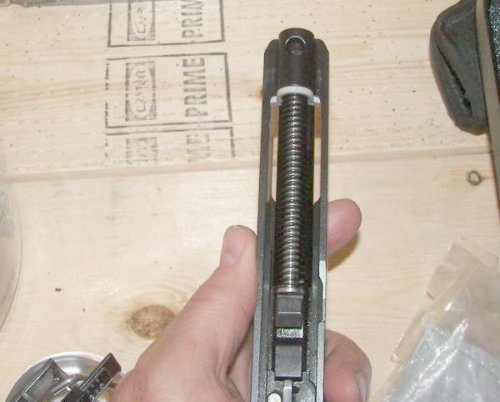 With the GLOCK 34 being as big as it is, a slot cut out of the slide (factory) helps lighten the muzzle of the gun but with the recoil reduction items added to this gun and the gun's factory qualities, recoil is minimal, and recovery is quick shot to shot.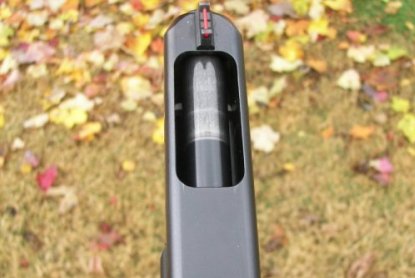 Did I mention that the GLOCK 34 is a big gun? The weight of the gun is 22.92 ounces empty, and 32.79 ounces loaded. The total length is 8.15 inches with a barrel length of 5.32 inches. The sight radius is the advantage with this larger gun, and the sights are easy to recover and line up after each shot. The trigger pull from the factory is 4.5 pounds.
If you have aspirations of shooting competitively in stock class (IDPA) competitions, it will make it as far as size, but you'll have to leave it alone except for the sights. This one would have to have factory parts put back in to meet IDPA requirements for stock class competition.
Now guess what? I actually carried this thing around in an inside the waistband holster when I got it. It just verifies what I always tell people about carrying a full size gun. You can carry any size handgun with the right holster and cover garment, which just amounts to a casual shirt un-tucked. The gun is a very fine tactical firearm as well as a competition pistol.
Shooting The GLOCK 34
So how did the GLOCK 34 do at the range? I put 150 rounds of cheap Monarch brass and Blazer aluminum case ammo through it and it performed as expected as far as reliability.
I did surprisingly have one failure to fire on a Blazer aluminum round. But when I examined the round and compared it to the others that had fired, it was evident that the GLOCK striker had hit the primer solidly. The primer simply did not ignite. I put the round back in the gun and it fired normally. This was obviously a primer issue, not a gun issue on this one round.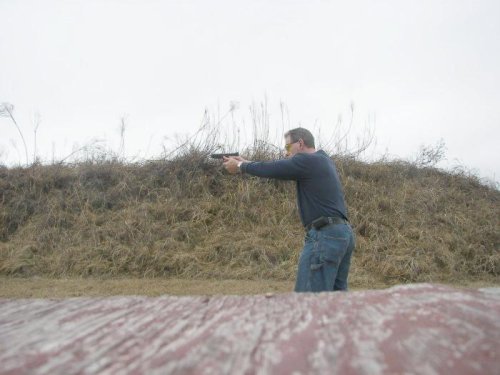 I shot the gun off hand only with remarkable results from the gun. Shooting rather quickly for tactical accuracy from 20-30 feet was a breeze to nail 5" and 8" targets. I shot from angles, on one knee, from cover, and running.
But, I thought, what could it do if a rescue shot (read "head shot") was needed, which is a fantasy of every shooter if they would just admit it. Don't believe it? Just go to any range and look at the silhouette targets with the heads all full of holes. Everybody fantasizes about rescuing somebody held hostage. So, I stepped back to 50 feet and took careful aim on two 5" targets. Below are the results.
BOTTOM LINE: I'm thrilled I found the gun, and even more thrilled that I decided to buy it. It is a major shooter that is extremely accurate for a tactical pistol with the added benefit of GLOCK reliability.
This is also one of the most popular pistols among IDPA competitors. If you're looking for a good, full size tactical pistol, competitor or not, you couldn't do much better than the GLOCK 34.
---
---
Get the Armed Volunteer Church Security Guide - Now on Amazon Kindle.