Conceal Any Size Handgun
Pistol or Revolver
Pick your CC handgun by what you can shoot best. Then conceal any size handgun that might be. There should be no other order to choose what you are going to carry with that CCW license you've got. 
Every week I talk to people who are looking for a pistol or revolver to carry. Whether they are experienced gunners or just buying their first firearm, the one thing they consistently say about most guns in the gun case is, "That's too big."

You really can conceal carry that full size handgun.

The Video shows you can really carry a full size handgun - or any other size.

No matter whether you are male, female, tall, thin, or thick, you can carry a wide range of gun sizes. Most important, the gun you can shoot best. Most controllably. Most accurately. Most confidently. 
That's your concealed carry pistol or revolver.
Not some pocket pistol that fits in a change pocket that you're looking for because somebody who is an experienced shooter told you that's the size you have to live with.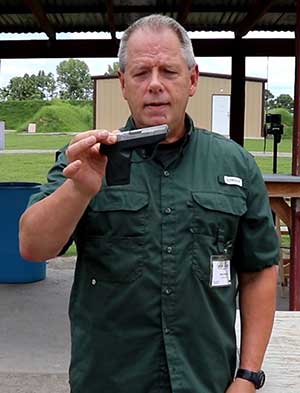 Too many people have been sold a bill of goods, now believing that any gun they can't fit in a change pocket is "too big to carry". 
The reality is, there are endless models, from major manufacturers, that are excellent for concealed carry, but are not particularly small. 
Compact firearms that you can get a full grip on, and carry effectively with the right holster and clothing, are plentiful. 
While there is a niche place for pocket pistols in the arsenal and carry gear of very experienced shooters, none are suitable for primary carry weapons for most concealed carry purposes. 
They are the most difficult to access, work, control, and shoot accurately. Not to mention they are statistically, as a group the most problem prone.
You'll be hard pressed to find better quality holsters than CYA Inside The Waistband Holsters. For use on the hip, or in the appendix position, these holsters are as compact, concealable, sturdy, and accessible as any you will find. ~Mark Rogers
Think a GLOCK 19 or 23 is "too big to carry"?

If you didn't watch the video before you got to this point, this is the first gun I showed I was carrying in it. That's a GLOCK 23, a common compact size that people constantly tell me is "too big" to carry even though I've been carrying one for 9 years.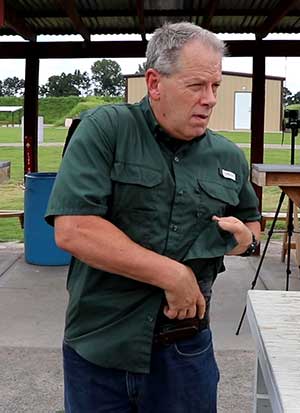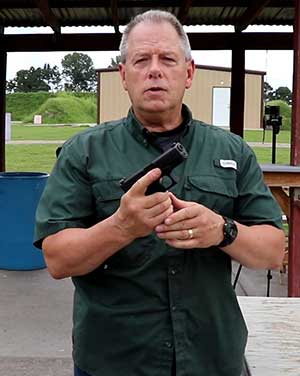 What about a full size duty pistol? A S&W M2.0 9mm. Can you actually conceal that?
Below is the second gun I showed I was carrying, a Smith and Wesson M2.0 full size 9mm pistol. Essential for accuracy if I am carrying a gun in a crowded location. Accessible, controllable, accurate. A full size duty pistol in a Blackhawk TecGrip, inside the waistband holster.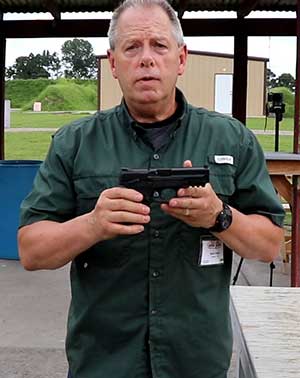 How about a large sub-compact in .45ACP that is made for concealed carry. Is that too big to carry?
Below shows I was also carrying the Smith and Wesson Shield in .45 ACP. The entire Shield line is made for effective concealed carry. Even this one gets rejected in favor of little two-finger pocket guns.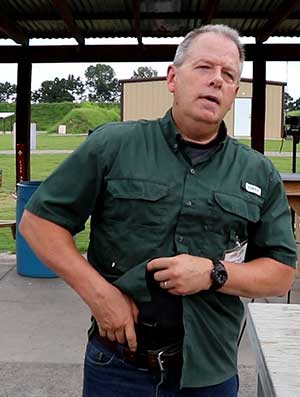 Any of the handguns above, and countless others of similar size can be carried by multiple methods.
I was carrying all three guns at once for the video demonstration. 
Again, if you haven't watched the video, it would be advisable to do so now. 
Hopefully this article demonstrates clearly that you can carry any size handgun you can shoot best. Not just a tiny pocket pistol. 
This article is not to tell you how to carry all of them, but just to show you that you can with a little adjustment to clothing and activity. 
And this article is to tell you that since you can carry any size pistol or revolver, you can pick the one that is the absolute best shooter.

For you. 

Not somebody who told you it was only possible to carry a gun so small you need tweezers to handle it. 
---
---
Get the Armed Volunteer Church Security Guide - Now on Amazon Kindle.