Bersa Thunder 40 Review
It was a pleasure testing and reviewing the Bersa Thunder 40. Bersa has got it going on with the guns they make today. This small company was known in the past as a "junk" gun maker. Like many of the past, through various changes Bersa has emerged as a company that is putting out excellent self defense handguns. And that is all you will find on Bersa's web site is self defense handguns.
Bersa made serious inroads into the small pistol market with their highly concealable and dependable .380 models. Now, they have put together a line of full power Thunder pistols that are well thought out, and of high quality.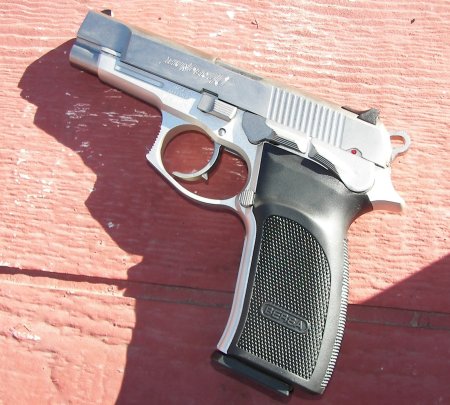 The Bersa Thunder 40 pictured here belongs to a friend who brought it to a group shoot and allowed me to put it through some paces. I was also able to watch him handle and shoot it. The gun here had around 600 rounds through it when I reviewed it. There had been, and remained after this test, no malfunctions with the gun.
First the stats:
The gun reviewed is a full size Bersa Thunder 40 S&W double/single action, blowback action, semi automatic pistol. It has an all steel frame with finely checkered polymer grips.
The finish on the Bersa Thunder 40 is listed on Bersa's web site as Nickel, though in appearance it looks like a nice stainless steel matte finish.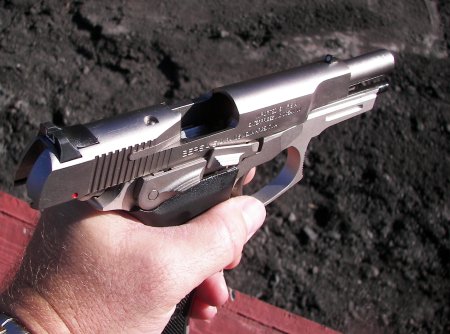 The gun has nice big ambidextrous controls allowing easy manipulation of the safety and slide release. The Bersa 40 sports a safety/decocker which blocks the firing pin with the hammer in the down position. It has a 4" barrel, is 7.5" long and weighs 30 ounces – not a small pistol.
Shooting the gun is a pleasure with the .40 S&W round tamed considerably by the all steel frame and weight of the gun. The grips on the gun are ergonomically well considered and fit most most of the adults' hands comfortably.
The gun is easy to bring on line with the target and recovery shot to shot is quick. The rear sight is an easily visible design that is dovetailed into the slide. The front side is fixed, inserted into the slide.
The owner of the gun shot the gun well and has practiced with it a lot. Consequently his shooting with it aligning the sights normally is accurate.
When I shot it, I had to raise the barrel to align the front sight slightly higher than designed, but that's typical of me shooting most pistols. The gun shot consistently where we aimed it and performed flawlessly with both factory and reloads.
The Bersa Thunder 40 is a worthy consideration for anyone wanting a full size shooter. And as demonstrated elsewhere on this site, as with other full size handguns, it can be carried concealed under winter clothing as well as loose warm weather clothing. The durability of the gun has yet to be determined and only comes with time, but with the way the gun is constructed, I suspect it will be available to hand down to the next generation.
BOTTOM LINE: Any one of the Bersa line of pistols which come in full and compact sizes is worthy of consideration, either as recreational shooters or self defense handguns. They will fill the role of either or both, at prices that won't break the bank.
-------------------------------
Update 8-27-2011 This Bersa continues to perform without a glitch. The gun has, as other Bersas of the year model it was sold, performed as well as any tactical handgun available to civilians. Bersa went through a period of turning out guns that drew lots of complaints in 2008 - 2009. But they seem to have turned the corner admirably and are now turning out guns that are of the quality of the ones before those two years.
---
Do you want to form a Shooting Group or club, that will pull together friends, family, and associates? A Group you can lead individually, or with the backing of a church or business?
With experienced shooters in the leadership positions of this type group, it can serve as a strong supplemental asset to your armed Church Security Team. 
No better opportunity than a group formed through a church to allow its members to shoot both recreationally, and for practice in their role as protectors. 
Here's How To Do It
And Present It
Finally, a personal service to help you solve your handgun challenges.
The CGO Pistol Training Website