Smith And Wesson 9mm Shield Pistol Review

The S&W Military and Police 9mm Shield is a gun that is about as ideal for concealed carry as they come. 
My admiration for the S&W Military and Police line of semi-automatic handguns has done nothing but grow in the years I've been shooting and carrying them. The guns have proven themselves to be worthy of consideration for law enforcement, federal contractors, competitive shooting, recreational shooting, and self defense, including concealed carry.

The Smith and Wesson 9mm Shield is yet another continuation in the line, particularly focusing on concealed carry. I've been hesitant to recommend guns that are very small compacts or large sub-compacts, one of which this gun is.
That has changed with the Military and Police Shield. The gun fixes every reason I have rejected most "pocket guns" of any manufacturer. That said, this is not a pocket gun in the true sense of the word. It is a gun you can conceal in a jacket pocket; but you won't likely be stuffing it in your skinny jeans.
I picked up the M&P Shield 9mm pistol at Academy Sports, that in general provides new handguns at some of the lowest new gun retail prices in the country. Before putting down the cash I tested the trigger pull, user controls, magazine release and operation.

M&P Shield 9mm Handling Plus Reputation = Sold

Then I paid and took home a gun that already had a reputation that is well embedded in the world of concealed carry. A reputation for dependability, better than average small gun accuracy, being easy to conceal, and being an enjoyable gun to shoot. The last not a real characteristic of most very small handguns.

Shooting The 9mm S&W Shield Pistol
The first couple of trips to the range, putting a total of about 200 rounds through the little gun proved it to be what it is reputed to be. And what I expected it to be.

It's a pleasure to shoot, with confidence building characteristics that go with a quality handgun. Not to be unrealistic. It is a very small center fire handgun. That means making precision hostage rescue shots is not likely with it.

But as far as using the gun to defend yourself at the relatively close ranges of 35 feet or closer, it will meet the challenge if you practice.

The big plus in this gun is grip control, easy sight alignment, and dependability. This is a small gun that comes in 9mm or .40 S&W that you can confidently defend your and your family's lives with.

Interestingly, the grip fits my hand and my daughter's which is about 35% smaller than mine. That's with the 8 round magazine. The grip with the 7 round mag fit her hand with mine being a little under-accommodated.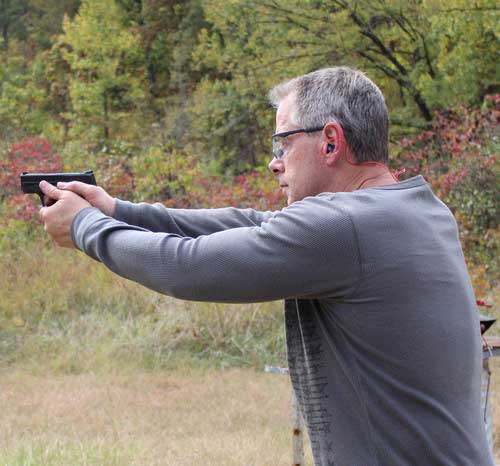 See the review of the .45 ACP version of this pistol here.
M&P 9mm 
Shield

Sight Adjustments


The sights on my gun were geared to slight left grouping. The first picture shows one of the first runs with the gun. The second shows one typical of groups after getting used to the gun. No matter who shot it.


Easily within the bounds of successful self defense shooting, just a bit left. As every gun owner/shooter knows, that's not gonna be good enough. For point and shoot aficionados, it will be fine, but for us shooters, well ...... we'll need to work on it.

So, I went after the front site with a steel punch. The front site is the only one adjustable for windage. With mallet in hand, I padded the punch and started tapping. Lessened the padding and pounded some more. Used the bare punch and still never moved the site 100th of an inch.

I'll get that worked out, but just know that any adjustment will be difficult.


In a lot of best-in-class guns the manufacturers have still demonstrated some kind of stupidity in something. In this gun it is one 7 round magazine, one 8 round mag. No reason for not just making the mags all 8 round.

Minor issue. Just a bit annoying

The user controls on this gun oddly vary significantly in operation from gun to gun. The safety, slide lock, take down lever all have different degrees of ease of use from gun to gun for some reason.

Anybody will be able to work it out on any gun, the controls loosening up after some use. But another annoyance that should be corrected by S&W with some consistency in manufacture and assembly.

Another annoyance. Not a deal breaker.

And you can even do it with a little longer than average distance to the target if necessary with a gun this size.

Co

n

cealing The 

Shield 9mm Pistol
Concealing the gun is a breeze, even for this larger than average sub-compact or smaller than average compact ....... (whatever) gun. The holster shown is an IWB one I've concealed GLOCK 19, 23, 22, Sig 220, Taurus 24/7, and others.
It takes the M&P Shield fine, covering the trigger guard while leaving the grip fully accessible. The popularity of the Shield makes for quite a few holsters specifically for the gun easy to find.

A simple Uncle Mikes pocket pouch will safely contain the gun's trigger guard for cargo or jacket pocket carry. 
2022 Shield Holster update: My daily primary carry guns, including the Shield goes with me in a CYA IWB Holster, made for either appendix or hip carry. They make them for guns with or without red dot sights. CYA Holsters for the Shield are here. 
A few important stats:  9mm; Striker fired; Barrel length 3.1"; Sights - white dot; Overall length: 6.1"; Weight: 19 oz.; Trigger pull 6.5 lbs. (short and crisp, making it feel lighter); Polymer frame.
NOTE: At last count S&W makes the gun in 18 different varying configurations.

Summary
The Smith and Wesson Military and Police Shield comes in multiple calibers and configurations, with and without the external flip up safety.

It will conceal in an IWB, belt, pouch, or ankle holster.

It will provide adequate control, sight alignment and accuracy with practice.

It is a winner worthy of consideration in anybody's concealed carry arsenal.

---
---
Get the Armed Volunteer Church Security Guide - Now on Amazon Kindle.