The Best Concealed Carry Handguns
This is my take on the best concealed carry handguns, which you'll find commented on tens of thousands of times elsewhere. But this is my turn, with comments based on a diversity of factors listed below.
I base these conclusions on my experience with these handguns, shooting, training with, and carrying them in various situations. I made this evaluation of the best guns for concealed carry based on how I live and dress, work, play, and shoot.
Some of the factors listed here will not apply to some readers of this site. But it will give you some ideas about what to consider when deciding what and how to carry.
(1) My evaluation is based on "shootability", the ease with which the gun can be drawn, sighted and fired.
(2) I considered caliber-the amount of power the bullet will strike with.
(3) Third I considered size-the ease with which the best concealed carry handguns can be carried in a holster without them being inadvertently noticed by passersby.
(4) I considered magazine capacity-the number of bullets you have in case something extreme goes down. In spite of all the internet commando gibberish about normal citizens needing extra magazines, backup guns, etc., I consider this one realistically to be least important for civilians. I based the evaluations on how I dress casually in both summer and winter and different situations in which I might carry concealed.
I carry in casual clothes always, but not in my dress clothes, though I normally have a gun nearby somewhere. I may carry a different gun in the woods where I exercise than when walking around town or shopping.
I've used broad strokes to describe what I do and why I choose these as the best concealed carry handguns. But considering how many people I now know who use/carry guns, this evaluation more closely represents most average citizens than lots of the online warriors.
Just before you read the original article below:

UPDATE 12/2016:  In 2013 I sold the S&W Airweight. I now carry a Taurus model 85 SS, that I found in a box in my mother's apartment just before she passed away. She had kept it loaded, un-fired in the box for over 20 years. It was like new when I found it.
I carry the model 85, loaded with 38 spl +p, in the same holsters as the Airweight. The Taurus model 85 is the only revolver I currently carry. You can read the report on the Taurus Model 85 here.

I also sold the Ruger SP101, though the gun was one of the best revolvers I have owned and carried.
And yes, the Bersa is gone too. Such are the casualties of a gun reviewer.
I can't keep them all forever, no matter how much I like them.
That said, the GLOCK 23 is still running and still being carried, going on somewhere around 8 years now. It may be with me till I go to be with Jesus.
And now, another great, the Smith and Wesson M&P Shield .45 ACP is another regular carry gun. A great addition to the Shield line, this gun will fit most holsters made for my GLOCK 23, even with a bit of a difference in size.
As I've heard Shields described elsewhere, it's either a small compact or a big sub compact. Whichever it is, it's a winner. Full grip, easy shooter, utterly dependable with any type ammo including my reloads.
You can read the review of the Smith and Wesson M&P Shield .45 ACP here.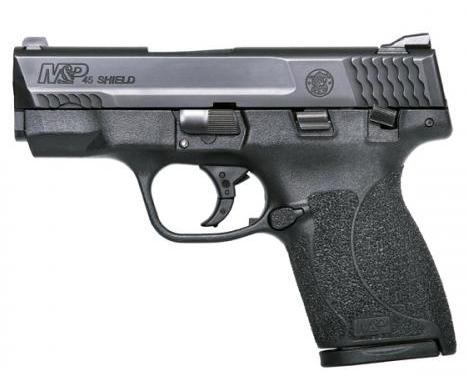 Now for the original article: Now you know the changes I have made since the article below was written. That said, the guns below still make great carry guns in the models listed, and in the updated models from the manufacturers today.

Best Concealed Handgun #1: All things considered in the very best of all these handguns, I carry this gun under the widest range of conditions. Under all types of clothes, in all kinds of weather, the gun I carry most often is the GLOCK 23 .40 S&W.
I replaced the G22 that sat in this spot for 3 years with the G23. The reason I replaced the former champ is simply because of being able to conceal it more effectively.
The GLOCK 23 has proven itself on the range and in the dependability category like all GLOCKS. I now carry it daily when I can wear casual clothes and wear a belt or inside the waistband holster.
You can see the full review of this gun here.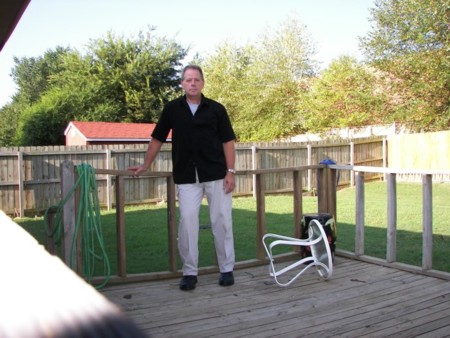 The picture above did not have to be replaced because I carry this gun in exactly the same holster and the same way as the G22. It just conceals a bit better without losing all the other advantages of a GLOCK.
Being a duty size pistol, it is easy to aim and shoot which was my first consideration. Shooting the gun is a pleasure with the same TruGlo TFO night sights that go on all my GLOCKS. The gun can be holstered with no snagging on the TFO sights.
It's also easy to grip and draw from concealment. And loaded with 175 grain Hornady Critical Duty ammo, it carries plenty of power in a thirteen round magazine.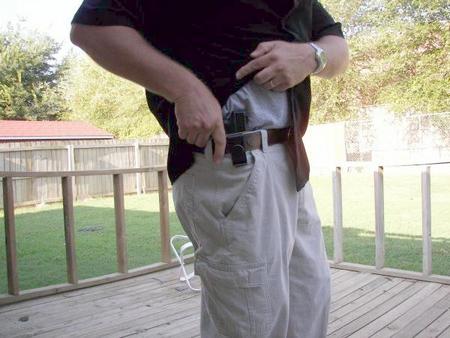 While it is far from the smallest, I carry it effectively and comfortably enough to rate as number one in my evaluation of the best concealed carry handguns.

Best Concealed Handgun #2: This is an easy choice. This is the gun that I took with me when wearing an inside the waistband holster or in a belt holster was not practical. Out exercising in the woods in hot weather when I might not wear a shirt excludes me from concealing a GLOCK.
It's for those times that the gun that goes with me and is my #2 pick of the best concealed handguns is the Ruger SP101 .357 Magnum with 2.5 inch barrel loaded with 110 grain Winchester jacketed hollow points.
The gun has grips that fit the hand nicely for a small revolver. I can easily access it from a cargo or back pocket. And it is a handful of power with the above mentioned loads.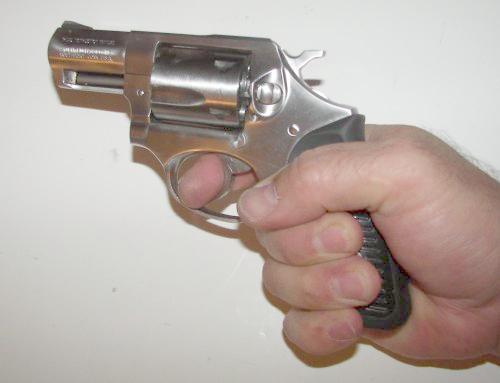 Like any small revolver, the gun is painful to shoot with larger magnum loads. The 110 grain bullet is the sweet spot between shootability and power. And if the gun is too uncomfortable you can opt for a set of Hogue Grips which will significantly tame the discomfort.
The gun is durable stainless and I don't have to worry about the sweat and dirt in the places I carried it. The short sight radius makes it a bit challenging to bring it on target, but it's an accurate little gun on the range when you have time to aim.
Otherwise it's a powerful, close range, easy to carry gun that takes the number two spot of the best concealed carry handguns with me. And of all the best concealed carry guns mentioned here, this one is probably the most versatile.
NOTE: Updating on 10/2011, I no longer own the SP101, but that doesn't change my evaluation of it. I just have to trade guns to be able to provide value to the readers of this site (you). It's to be able to evaluate the number of them I do (without taking out a second mortgage on my house to buy them).
You can read the full review of the Ruger revolver here.

Honorable Mention For Concealed Carry: While I have owned over three dozen handguns in just the last four years, the two above have excelled for my concealed carry needs. However, one I have carried on occasion, and is one of the most dependable, concealable, and shootable in this size, is the Bersa Thunder .380.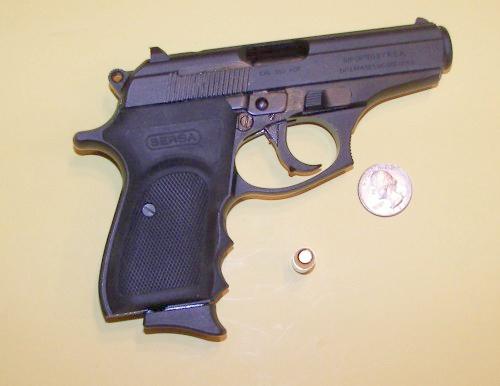 This has got to be one of the best values in the gun world. The Bersa can be purchased new for less than $300.00. For a gun this size it is a real shooter.
The fixed barrel makes the gun remarkably accurate for a pistol this size. Mine has about three hundred rounds through it without a hiccup. For a gun this size that you're not likely to spend much time shooting, it says a lot about your ability to carry it with confidence.
It holds seven rounds of .380 ammo in the magazine and one in the barrel for a total of eight rounds. Plenty of firepower in a pinch.
And of the concealed carry pistols I have owned that I can get a manageable grip on, this is the easiest to make disappear. Flat and very compact, it can be carried safely decocked in a coat or pants pocket. It earns honorable mention among the best concealed carry handguns.
Here's the full page review of the Bersa.

---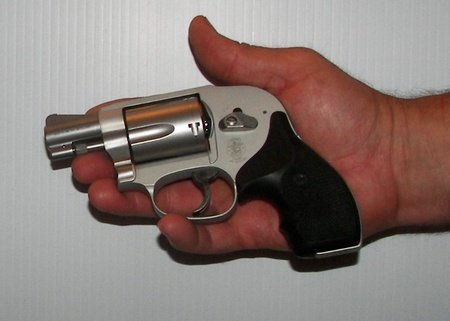 Deep Concealment Revolver: In the best concealed carry handguns I include the revolver that allows me to go armed 100% of the time where legal. The Smith and Wesson 638 Airweight revolver. This diminutive revolver is, as the name implies, very light but sports 5 rounds of 38 special +p ammo that will generally take care of business for any civilian needs.
Fun to shoot and amazingly controllable and accurate, the little Smith revolver tucks away all day long in an ankle holster. It goes with me all day without hardly noticing it's there. At Amazon.com you can purchase the Fobus Ankle Holster for J Frame revolvers that I use as well as the same holster for other small guns.
Because this one actually goes with me so much, I had to include it in the list of "best concealed carry handguns". As of 10/2011 I have carried it consistently for 3 years. You can read the full report on this S&W here.
Those are the best concealed handguns for me, and I suspect they will work well for most people who will take the time to practice and figure out the best way to carry.
But, of course I reserve the right to change my mind...........
---
Concealed carry just got simpler. Your shortcut to figuring it all out.


---