The Old Fort Gun Club

I took the pictures of the Old Fort Gun Club below on a pretty dreary winter day. I will eventually replace them with new pictures when everything is green. It is a 35 acre facility, located in the Van Buren/Fort Smith, Arkansas area.
It is beautifully maintained primarily by volunteers. The gun club dues are only $120.00 per year (also requires an NRA membership) for full access.
Members get a combination to the gate lock with access to the club 7 days a week, 365 days per year. The Old Fort Gun Club holds shooting contests throughout the majority of the year including IPSC, Cowboy Action, Three Gun, Clay Pigeon Shoots, Youth, and much more. Below are pictures of what is available at the club.
First the entrance to the Old Fort Gun Club
Where I most often show up - one of several pistol bays at the Old Fort Gun Club. I have included two views here. The first is from just outside a pistol bay.
The second view, below, is from the covered shooting area in the bay. You can shoot from anywhere inside the bay. The target stands are provided by the club though you may put up your own wooden stands inside the bay so long as all shots hit the berm in the background.
Below are a couple of views of the 100 yard rifle range. As with all the ranges at the Old Fort Gun Club, except shotgun, it has covered shooting stations. The first is a full view from a distance.
The second view is a closer one showing the target mounds set at 25, 50, 75 and 100 yards.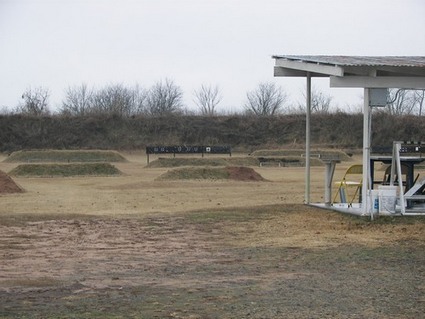 Below are a couple of views of the 300 yard rifle range. Target stand mounds are placed at 100 and 200 yards, with the berm being the 300 yard mark. Target stands are available beside the range and a vehicle access path runs down the side of the range. First is the distance view.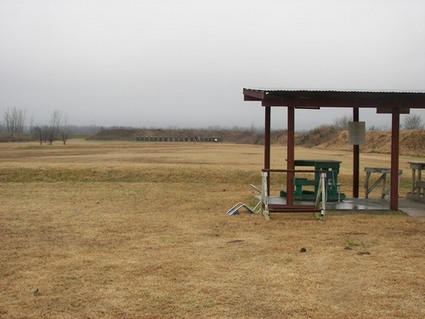 Second is a zoomed view of the 300 yard berm with targets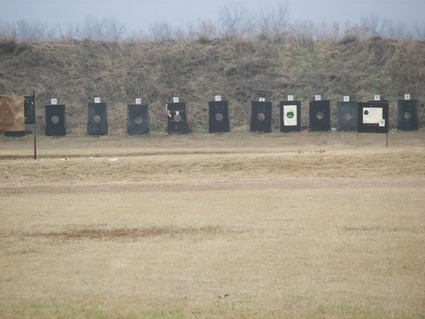 Shotgun shooting may be done on the 100 yard and 300 yard rifle ranges.
There is a second range in the Alma, Arkansas area about 20 miles away from the Van Buren range that is also open to all members and where some of the shooting contests are held.
NOTE: I am a dues paying member of the Old Fort Gun Club. I have no financial interest in the club. This page is a courtesy for a very fine facility and in appreciation for the volunteers that make the gun club the great asset to our region that it is. The links to the club at the top and below are intended to send visitors to the sight with no financial affiliate obligation to me.
-----------------------------------------------------------------------------------------------------------------------

HIGHLIGHTS

---
Concealed carry just got simpler. Your shortcut to figuring it all out.


---